Roman Games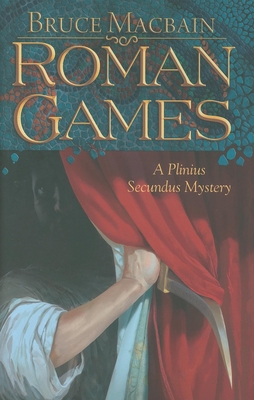 Roman Games
A Plinius Secundus Mystery
Poisoned Pen Press, Hardcover, 9781590587751, 261pp.
Publication Date: October 5, 2010
* Individual store prices may vary.
Buy at Local Store
Enter your zip code below to purchase from an indie close to you.
or
Buy Here
Description
Rome: September, 96 AD. When the body of Sextus Verpa, a notorious senatorial informer and libertine, is found stabbed to death in his bedroom, his slaves are suspected.Plinyis ordered by the emperor Domitian to investigate. However, the "Ludi Romani," the Roman Games, have just begun and for the next fifteen days the law courts are in recess. If Pliny can't identify the murderer in that time, Verpa's entire slave household will be burned alive in the arena.Pliny, a very respectable young senator and lawyer, teams up with Martial, a starving author of bawdy verses and denizen of the Roman demimonde. Pooling their respective talents, they unravel a plot that involves Jewish and Christian 'atheists, ' exotic Egyptian cultists, and a missing horoscope that forecasts the emperor's death.Their investigation leads them into the heart of the palace, where no one is safe from the paranoid emperor.As the deadline approaches, Pliny struggles with the painful dilemma of a good man who is forced to serve a brutal regime a situation familiar in our own age as well.The novel provides an intimate glimpse into the palaces and tenements, bedrooms and brothels of imperial Rome's most opulent and decadent age.
About the Author
Bruce Macbain was born in Chicago, Illinois. As a child, he squandered whole days reading science fiction and history. Greek and Roman history held a special fascination for him and this led eventually to acquiring a master's degree in Classical Studies and a doctorate in Ancient History. As an assistant professor of Classics, he taught courses in Late Antiquity and Roman religion--which is a particular interest of his--and published a few impenetrable scholarly monographs, which almost no one read. He eventually left academe and turned to teaching English as a second language, a field he was trained in while serving as a Peace Corps Volunteer in Borneo in the 60s.
Macbain has written a series of historical mysteries set in ancient Rome, (Roman Games, 2010, and The Bull Slayer, 2013) featuring the senatorial letter-writer Pliny the Younger as his protagonist, assisted by other literary figures such as the poet Martial and the biographer Suetonius. He also does a bit of book reviewing for the Historical Novels Review and Foreword magazine. Odin's Child is the first in his Viking series, The Odd Tangle-Hair Saga.