A Killing Season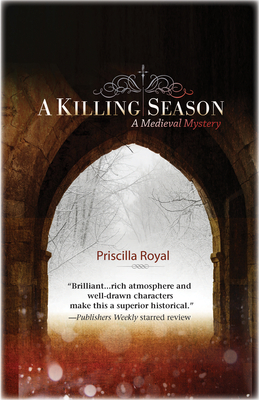 A Killing Season
A Medieval Mystery
Poisoned Pen Press, Hardcover, 9781590589472, 228pp.
Publication Date: October 4, 2011
* Individual store prices may vary.
Buy at Local Store
Enter your zip code below to purchase from an indie close to you.
or
Buy Here
Description
When Baron Herbert returns from crusade he grows increasingly morose and withdraws from his family. When his sons begin to die in strange accidents, questions are asked whether Herbert harbors a dark sin for which God has cursed him. The baron suddenly sends for Sir Hugh of Wynethorpe, begging his friend to bring spiritual and secular healers. Sir Hugh persuades his sister, Prioress Eleanor of Tyndal Priory, as well as a respected physician, Master Gamel, to accompany him. Although Sir Hugh is pleased when the prioress brings her healer, Sister Anne, he is surprised to find the mysterious Brother Thomas included. Tensions spark among family members and soon ignite too among those who came to help. Death's scythe harvests more victims, and it is not long before Ecclesiastes' grim words seem all too apt: there is a season for everything under heaven, including a time to kill. Is there also a time to heal?
About the Author
Priscilla Royal is the author of the thirteenth century English mysteries, featuring Prioress Eleanor and Brother Thomas of the Order of Fontevraud. "Season for Killing" is the eighth book in the series.
Praise For A Killing Season…
"Rich atmosphere and well-drawn characters make this a superior historical."—Publishers Weekly starred review


"With its intriguing plot, chilling conclusion and characters who exhibit universal and timeless feelings, this fresh first has all the potential to evolve into a series as enduring as Ellis Peters's Brother Cadfael books." —Publishers Weekly starred review of Wine of Violence

"Against an authentic backdrop of medieval life and lore, Royal once again brings alive characters who are true to their period yet exhibit emotions and feelings that 21st-century readers will recognize as their own." —Publishers Weekly starred review of Forsaken Soul
"The author subtly treats the erotic charge surrounding Eleanor and Thomas while shedding light on 13th-century understandings of sexuality. Royal draws together the murder, the manuscript and the ghost in an unexpected conclusion."—Publishers Weekly starred review of Justice for the Damned