The Terrible Hodag and the Animal Catchers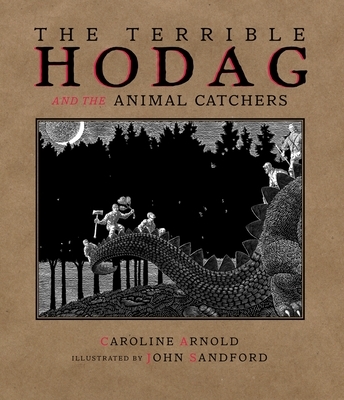 The Terrible Hodag and the Animal Catchers
Boyds Mills Press, Hardcover, 9781590781661, 32pp.
Publication Date: February 1, 2006
* Individual store prices may vary.
Buy at Local Store
Enter your zip code below to purchase from an indie close to you.
or
Buy Here
Description
Kids will delight in the tale of the terrible - but lovable - Hodag. With the head of an ox, feet of a bear, back of a dinosaur, and tail of an alligator, the Hodag stands forty feet tall, and its eyes glow like fire. Learn what happens when a group of animal catchers comes to capture this fierce creature and bring it to the zoo This original tale, a Parents' Choice Gold Award winner, is perfectly turned for storytelling, with magnificent illustrations that evoke storybooks from long ago.
About the Author
Caroline Arnold is the author of 150 books for children. Her many honors include awards from the American Library Association, P.E.N., the National Science Teachers Association, and the Washington Post / Children's Book Guild. Caroline s interest in animals and the outdoors began when she was a child growing up in Minnesota. After majoring in art and literature at Grinnell College in Iowa, she received her M.A. in art from the University of Iowa. Caroline lives in Los Angeles with her husband, Art, a neuroscientist.
John Sandford, illustrator of "Moonstick, The Seasons of the Sioux" by Eve Bunting, studied drawing, painting, and illustration at the American Academy of Art in Chicago, IL. He lives in Grand Haven, Michigan. In His Own Words...
"I was born in Hannibal, Missouri, where we lived at the top of Hill Street in an old house that creaked with the adventures of five children and our parents. We later moved to Pontiac, Illinois, and filled a house with books, noise, crackpot ideas, and ill-tempered cats.
"I first heard stories at the family dinner table, but I was never quite clear about which were fact and which were fiction. I found more stories in the family library, some made vivid with illustration: N. C. Wyeth's robust" Boy's King Arthur", Mead Schaeffer's painterly "Three Musketeers, " Maxfield Parrish's "Arabian Nights, " Robert Lawson's "Rabbit Hill", and the curious drawings by Maud and Miska Petersham for "The Rootabaga Stories.""