For Liberty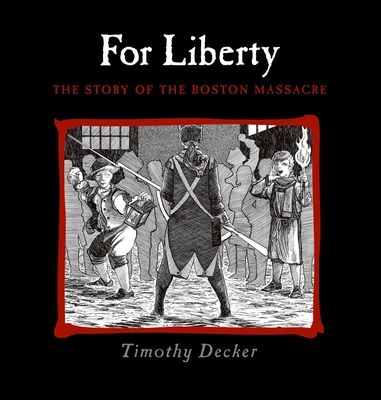 For Liberty
The Story of the Boston Massacre
Calkins Creek Books, Hardcover, 9781590786086, 1pp.
Publication Date: September 1, 2009
* Individual store prices may vary.
Buy at Local Store
Enter your zip code below to purchase from an indie close to you.
or
Buy Here
Description
By March 5, 1770, it was dangerous to be a soldier in Boston. Colonial businessmen opposed the taxes imposed by Great Britain. The Sons of Liberty ruled the city through boycotts and riots. British troops were sent to protect lives and property. On that late winter day, a British private found himself harassed by street toughs. Then up from the docks came sailors and ruffians armed with clubs and cutlasses. Soldiers from the British 29th Regiment of Foot came to disperse the mob. Threats made, stones thrown, then ... gunfire. In spare, gripping language, author-illustrator Timothy Decker describes the tense, violent confrontation between Boston's angry colonists and soldiers, as well as the legal aftermath that underscored the rule of law.
About the Author
Timothy Decker has played an important role in educational engagement over the past several decades. With extensive experience in game animation, character design and children s television, Tim has been an Animation Supervisor for Disney Interactive, lead animator for Knowledge Adventure, and layout artist/animator for the award-winning television series The Simpsons as well as Teenage Mutant Ninja Turtles, Alvin and Chipmunks, and the Critic. He has also appeared on many episodes of the Imagination Station as a guest artist inspiring children in the art of animation and cartooning. He has extensive experience directing animation in Canada, India, Korea, and the United States. Throughout his career, Tim has won numerous gaming awards from PC Magazine, Communication Arts Magazine, Family Magazine and the Academy of Arts and Sciences. Tim has been awarded three regional Emmy awards for his participation with Milwaukee Public Television. Tim holds a Bachelor s degree in Character Animation and Film from California Institute of the arts (CalArts) and an Associates degree in Illustration from Rocky Mountain College of Art and Design. Tim is enjoying his second career as a Lecturer at Peck School of the Arts at the University of Wisconsin Milwaukee and Milwaukee Area Technical College. Tim teaches animation, character development, puppetry, claymation, and drawing for animation. His students are major participants in many national and international film festivals. Tim believes that immersive virtual environments are advantageous for communicating complex ideas, and that animation has the ability to support the telling of scientific stories in medical, engineering, and applied sciences.