Birds of a Feather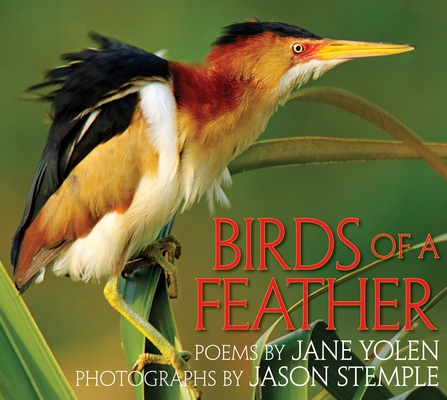 Birds of a Feather
Wordsong, Hardcover, 9781590788301, 32pp.
Publication Date: April 2011
* Individual store prices may vary.
Shop Local
Enter your zip code below to find indies closest to you.
Description
Birds offer endless fascination for those of us patient or lucky enough to catch a glimpse. Fortunately, award-winning writer Jane Yolen and photographer Jason Stemple once again give readers the chance to closely observe a brand-new flock of these creatures in expertly rendered poetry and photographs. Each poem and picture combination beautifully and thoughtfully captures both bird and a moment of time. Brief facts about each bird, reviewed by an ornithologist, are included.
About the Author
Jane has been called the Hans Christian Andersen of America and the Aesop of the twentieth century. She sets the highest standard for the industry, not only in the meaningful body of work she has created, but also in her support of fellow authors and artists. Her books range from the bestselling How Do Dinosaurs series to the Caldecott winning Owl Moon to popular novels such as The Devil s Arithmetic, Snow in Summer, and The Young Merlin Trilogy, to award-winning books of poetry such as Grumbles from the Forest, and A Mirror to Nature. In all, she has written over 335 books (she s lost count), won numerous awards (one even set her good coat on fire), and has been given six honorary doctorates in literature. For more information, please visit www.janeyolen.com.

Jason Stemple is free-lance photographer who provided the photographs for "A Mirror to Nature" by Jane Yolen, winner of the John Burroughs Young Readers Award and for "Wild Things "by Jane Yolen, winner of the National Outdoor Book Award. He was recently named an Artist in Residence at the Everglades National Park in Florida. He lives in Charleston, South Carolina.