Bug Off!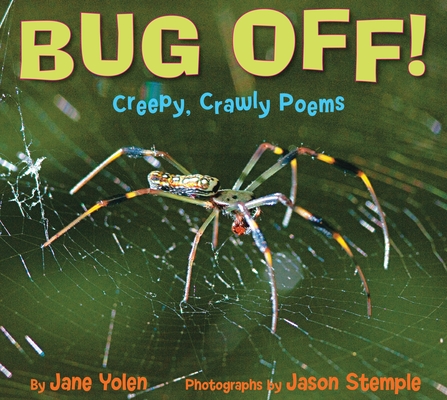 Bug Off!
Creepy, Crawly Poems
Wordsong, Hardcover, 9781590788622, 32pp.
Publication Date: April 1, 2012
* Individual store prices may vary.
Buy at Local Store
Enter your zip code below to purchase from an indie close to you.
or
Buy Here
Description
In Bug Off readers meet thirteen bugs in playful, humorous poems and startling, intimate photographs. Nonfiction prose paragraphs broaden the perspective: Children will learn how bees make honey, that many butterflies can taste food with their feet, that lovebugs can fly higher than the Empire State Building, and much more. The subjects will be familiar to kidsa fly, praying mantis, honeybee, butterfly, daddy longlegs, lovebug, dragonfly, tick, ladybug, spider, grasshopper, ants, and a swarm of bugsbut the poems, photographs, and nonfiction passages present them in eye-opening new ways. Includes an author's note that encourages readers to write their own bug poems.
About the Author
Jane has been called the Hans Christian Andersen of America and the Aesop of the twentieth century. She sets the highest standard for the industry, not only in the meaningful body of work she has created, but also in her support of fellow authors and artists. Her books range from the bestselling How Do Dinosaurs series to the Caldecott winning Owl Moon to popular novels such as The Devil s Arithmetic, Snow in Summer, and The Young Merlin Trilogy, to award-winning books of poetry such as Grumbles from the Forest, and A Mirror to Nature. In all, she has written over 335 books (she s lost count), won numerous awards (one even set her good coat on fire), and has been given six honorary doctorates in literature. For more information, please visit www.janeyolen.com.

Jason Stemple is free-lance photographer who provided the photographs for "A Mirror to Nature" by Jane Yolen, winner of the John Burroughs Young Readers Award and for "Wild Things "by Jane Yolen, winner of the National Outdoor Book Award. He was recently named an Artist in Residence at the Everglades National Park in Florida. He lives in Charleston, South Carolina.