Grumbles from the Forest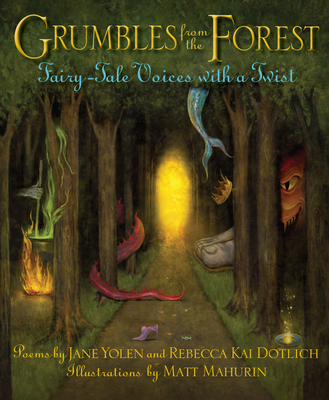 Grumbles from the Forest
Fairy-Tale Voices with a Twist
Wordsong, Hardcover, 9781590788677, 40pp.
Publication Date: March 1, 2013
* Individual store prices may vary.
Buy Now
or
Shop Local
Enter your zip code below to purchase from an indie close to you.
Description
What were all those fairy-tale characters thinking? Jane Yolen and Rebecca Kai Dotlich answer this question in paired poems, with sometimes startling results. The Princess claims all those mattresses kept her awakenot a silly peawhile the poor pea complains that the princess snores. One Snow White begs the witch to settle by the bay and throw that mirror away. Another boldly tells the mirror she won t be guided by a glass that's so one-sided. Grumbles from the Forest is a bewitching brew of voicesgrumbling, pleading, bragging, reminiscing, confidingthat bubbles with magic and wonder. The spectacular paintings that tie the poems together are full of surprise and intrigue. This stunning collection includes end notes that briefly describe the tales and their history and an introduction that invites readers to imagine their own poems from unusual perspectives.

About the Author
Jane has been called the Hans Christian Andersen of America and the Aesop of the twentieth century. She sets the highest standard for the industry, not only in the meaningful body of work she has created, but also in her support of fellow authors and artists. Her books range from the bestselling How Do Dinosaurs series to the Caldecott winning Owl Moon to popular novels such as The Devil s Arithmetic, Snow in Summer, and The Young Merlin Trilogy, to award-winning books of poetry such as Grumbles from the Forest, and A Mirror to Nature. In all, she has written over 335 books (she s lost count), won numerous awards (one even set her good coat on fire), and has been given six honorary doctorates in literature. For more information, please visit www.janeyolen.com.

Poet and picture book author Rebecca Kai Dotlich has written several children's books, including Grandpa Loves, illustrated by Kathryn Brown; Over in the Pink House: New Jump-Rope Rhymes, illustrated by Melanie Hall; and What is Science?, illustrated by Sachiko Yoshikawa. This is her first title in the I Can Read Book line. She lives in Indiana.

Matt Mahurin has spent over twenty years as a film director, illustrator, and photographer. In 1996, he wrote and directed the award-winning feature film. Mugshot. In addition, his illustrations have appeared in Time, Newsweek, Rolling Stone, Esquire, The London Observer, and The New York Times. His photographic essays have focused on the homeless, people with AIDS, the Texas prison system, Abortion clinics. Nicaragua, Haiti, Belfast and he has photographs in the permanent collection of the Metropolitan Museum of Art in New York City. Finally, Mahurin has directed music videos for Peter Gabriel, U2, REM, Tracy Chapman, Sting, and many more.