Mortalism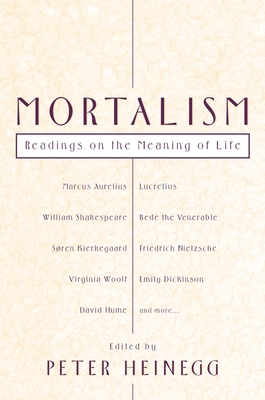 Mortalism
Readings on the Meaning of Life
Prometheus Books, Paperback, 9781591020424, 213pp.
Publication Date: May 1, 2003
* Individual store prices may vary.
Buy at Local Store
Enter your zip code below to purchase from an indie close to you.
or
Not Currently Available for Direct Purchase
Description
The inevitability and finality of death have prompted some of the world's most poignant and memorable literature, from the Epic of Gilgamesh of ancient Babylon to the works of contemporary poets and novelists. The conviction that death means everlasting extinction, with no possibility of an afterlife, is described by Peter Heinegg as "mortalism." In this unique anthology he has collected more than fifty selections of poetry and prose that reflect this view.
Contrary to what one might expect, mortalism does not invariably lead to pessimism, despair, or the sense that life is absurd. Although such sentiments are found in some of the quoted passages, many others give one the opposite impression: since life is brief and terribly finite, it should be treasured and celebrated for all its pleasures and rich experiences. Also noteworthy is the fact that the mortalist point of view is not necessarily confined to unbelievers. Heinegg presents quotations from Job, Ecclesiastes, the Venerable Bede, Blaise Pascal, and Soren Kierkegaard, as well as from such unbelievers as Seneca, Marcus Aurelius, Friedrich Nietzsche, and Sigmund Freud.
Heinegg calls mortalism the great open secret of our culture--open because the arguments in its favor are clear, powerful, and perfectly accessible, and a secret because acknowledging it has been seen either as impious or as simply too depressing to discuss. In perusing this intriguing volume the reader will find that mortalism was the viewpoint shared by many of the most profound and creative minds in history.
About the Author
Keith Hale is author of the novels Clicking Beat on the Brink of Nada and Letters to a Shooting Star. He has edited an anthology of gay literature from antiquity through the First World War (Ode to Boy), a collection of Lord Byron's love poetry for boys (Edleston), a collection of Rupert Brooke's letters that had been sealed for eighty years due to their homosexual themes (Friends and Apostles), a collection of Georgian Poetry, and editions of poetry by Shakespeare, Housman, and Brooke. Hale wrote the first and perhaps only account of gay life in the Balkans before the walls of Communism crumbled in his travelogue In the Land of Alexander, and he explored how the military's ban on gays affected the life of one ROTC cadet in his book Torn Allegiances. Hale is a native of Mayflower, Arkansas, and also has made his home in Austin, Amsterdam, and Guam.

Soren Kierkegaard (1813 1855) lived in Copenhagen, Denmark. His books include Works of Love and Spiritual Writings (translated and edited by George Pattison).

Virginia Woolf was an influential English author best known for her involvement with the Bloomsbury Group, an association of intellectuals and artists including, John Maynard Keynes and E. M. Forster, who are credited with influencing early twentieth-century literature, criticism, and economics. Woolf became a prolific writer in between the two World Wars, and some of her most famous works, including Mrs. Dalloway and To the Lighthouse, are now among the most prominent English books of the modern period. A life-long sufferer of depression, Woolf was institutionalized numerous times before taking her own life in 1941.