The Pivot of Civilization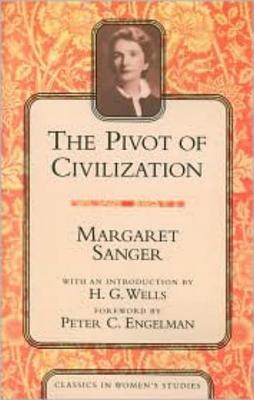 The Pivot of Civilization
Humanity Books, Paperback, 9781591020585, 259pp.
Publication Date: June 18, 2003
* Individual store prices may vary.
Not Currently Available for Direct Purchase
or
Shop Local
Enter your zip code below to purchase from an indie close to you.
Description
Arguably her most important and influential book, this controversial work, first published in 1922 by pioneering birth-control advocate Margaret Sanger, attempted to broaden the still-radical idea of birth control beyond its socialist and feminist roots. Moving away from a single-minded focus on women's reproductive rights to the larger issue of the general health and economic prosperity of the whole human race, Sanger argued that birth control was pivotal to a rational approach toward dealing with the threat of overpopulation and its ruinous consequences in poverty and disease. Through this book Sanger hoped to persuade the medical establishment to assume control over contraceptive distribution, and thereby to lessen the religious, legal, and moral opposition that continued to restrict access to contraceptive information.

However important this book is to the history of women's rights, it remains a very problematic work from our more scientifically informed perspective today. In arguing for population control Sanger made frequent reference to the then fashionable "science" of eugenics. She also adopted its rhetoric, using such callous phrases as "the feeble-minded" and the "unfit" and advocating birth control as a means of limiting the breeding of "defectives, delinquents and dependents." Although she incorporated views and terminology commonly held in respectable medical and scientific circles of the day, Sanger's writings on eugenics, and this book in particular, have become fodder for her critics both on the left and the right, who seek to diminish her achievements and obscure what is ultimately a powerful feminist message: when women gain greater control over their fertility, they will improve the human race.

This unusual and historically significant book is complemented by a thoughtful and informative introduction by Peter C. Engelman, assistant editor of The Margaret Sanger Papers Project, who provides much insight by placing this work in the context of the age and Sanger's life.
About the Author
Margaret Higgins Sanger (September 14, 1879 - September 6, 1966) was an American birth control activist, sex educator, and nurse. Sanger popularized the term birth control, opened the first birth control clinic in the United States, and established organizations that evolved into the Planned Parenthood Federation of America. Sanger's efforts contributed to several judicial cases that helped legalize contraception in the United States. Sanger is a frequent target of criticism by opponents of birth control and has also been criticized for supporting eugenics, but remains an iconic figure in the American reproductive rights movement. In 1916, Sanger opened the first birth control clinic in the United States, which led to her arrest for distributing information on contraception. Her subsequent trial and appeal generated controversy. Sanger felt that in order for women to have a more equal footing in society and to lead healthier lives, they needed to be able to determine when to bear children. She also wanted to prevent unsafe abortions, so-called back-alley abortions, which were common at the time because abortions were usually illegal. She believed that while abortion was sometimes justified it should generally be avoided, and she considered contraception the only practical way to avoid the use of abortions. In 1921, Sanger founded the American Birth Control League, which later became the Planned Parenthood Federation of America. In New York City, she organized the first birth control clinic staffed by all-female doctors, as well as a clinic in Harlem with an entirely African-American staff. In 1929, she formed the National Committee on Federal Legislation for Birth Control, which served as the focal point of her lobbying efforts to legalize contraception in the United States. From 1952 to 1959, Sanger served as president of the International Planned Parenthood Federation. She died in 1966, and is widely regarded as a founder of the modern birth control movement.

Editor Luke Hartwell is author of the novels Atom Heart John Beloved, Nathan's Story, and Locomotives in Winter. Jack London is the well-known author of Call of the Wild, White Fang, and other tales of the arctic, the sea, and the future. H.G. Wells is the equally famous author of War of the Worlds, The Time Machine, and other science fiction works. Robert Hugh Benson is best known for the work included here, Lord of the World.

Engelman is assistant editor of the Margaret Sanger Papers Project at New York University.