Myth of Self-Esteem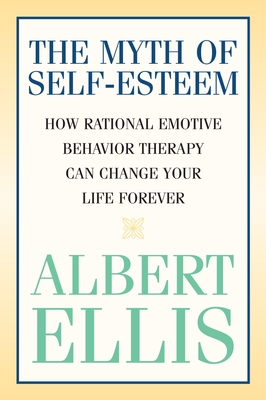 Myth of Self-Esteem
How Rational Emotive Behavior Therapy Can Change Your Life Forever
Prometheus Books, Paperback, 9781591023548, 344pp.
Publication Date: October 1, 2005
* Individual store prices may vary.
Buy at Local Store
Enter your zip code below to purchase from an indie close to you.
or
Buy Here
Description
In this illuminating" "book, Ellis provides a lively and insightful explanation of the differences between self-esteem and self-acceptance. Emphasizing the importance of self-acceptance, he examines this theme in the thinking of great religious teachers, philosophers, and psychologists. He then provides exercises for training oneself to change self-defeating habits to the healthy, positive approach of self-acceptance. These include specific thinking techniques as well as emotive and behavioral exercises.
He concludes by stressing that unconditional self-acceptance is the basis for establishing healthy relationships with others, along with unconditional other-acceptance and a total philosophy of life anchored in unconditional life-acceptance.
About the Author
Dr. Albert Ellis holds a Ph.D. in Clinical Psychology from Columbia University and is President of the Institute for Rational-Emotive Therapy in New York City. He is the founder of rational-emotive therapy (RET) and the grandfather of cognitive-behavior therapy (CBT). Several professional societies have honored him: He holds the Humanist of the Year Award of the American Humanist Association, the Distinguished Psychologist Award of the Academy of Psychologists in Marital and Family Therapy, and the Distinguished Practitioner Award of the American Association of Sex Educators, Counselors and Therapists. The American Psychological Association has given him its major award for Distinguished Professional Contributions to Knowledge (and the American Association for Counseling and Development has given him its major Professional Development Award.) He has published more than 70 books and over 700 articles on psychotherapy, sex, love, and marital relationships. Still going strong, he sees about 70 individual clients and conducts 5 group therapy sessions each week at the psychotherapy clinic of the Institute, supervises interns and postdoctoral fellows, and gives numerous talks and workshops in the United States and abroad.
Professor Michael E. Bernard is the Founder of You Can Do It! Education, a program for promoting student social-emotional well-being and achievement that is being used in over 6,000 schools in Australia, New Zealand, England and North America. After receiving his doctorate in educational psychology from the University of Wisconsin, Madison, he worked for 18 years in the College of Education, University of Melbourne, Australia. In 1983, he was appointed as Reader andCoordinator of the Master of Educational Psychology Program. From 1995-2005, he was a tenured professor in the Department of Educational Psychology, Administration and Counseling, College of Education, at California State University, Long Beach. Professor Bernard has worked as a consultant school psychologist helping families and schools address the educational and mental health needs of school-age children. He has spent extensive time counseling children with emotional, behavioral or academic difficulties. Professor Bernard is a co-founder of the Australian Institute for Rational Emotive Behavior Therapy and is the author of many books on REBT. For eight years, he was the editor-in-chief of the Journal of Rational-Emotive and Cognitive-Behavior Therapy. He is the author of over 50 books, 15 book chapters and 30 journal articles in the area of childrena (TM)s early childhood development, learning and social-emotional well-being as well as parent education, teacher professional development and school improvement. Today, Professor Bernard is an international consultant to universities, educational authorities, organisations and government. He is a professor at the University of Melbourne, Faculty of Education.
Praise For Myth of Self-Esteem…
"[A] stimulating examination of how the teachings of the world's greatest thinkers and philosophers dovetail (or don't) with Ellis's three core concepts: unconditional acceptance of the self, others and the world....The book, which includes multiple self-acceptance exercises, may be among his best: Every page offers a fresh insight into rational emotive behavior therapy, Ellis's doctrine of modern stoicism."
—Psychology Today

"Albert Ellis is a contemporary prophet whose ideas will be remembered along with those of Jesus, Buddha, Lao Tzu and Sartre. In this important book, he shows how to develop self-acceptance as well as to learn how to create healthy relationships. In a world of increasing involvement with machines (i.e., computers, televisions, video games) and decreasing involvement with people, nothing could be more needed."
—Jon Carlson, PsyD, EdD, ABPP
Distinguished Professor, Governors State University

"This wonderful book, as it helps us move toward greater compassion for ourselves, for others, and for our troubled world, is one more significant contribution by Dr. Ellis—not only toward greater personal happiness, but also toward a better world."
—Howard C. Cutler, M.D.
coauthor (with the Dalai Lama) of The Art of Happiness, A Handbook for Living