Ye Will Say I Am No Christian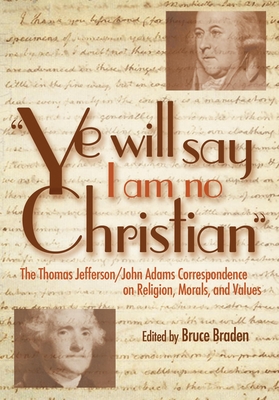 Ye Will Say I Am No Christian
The Thomas Jefferson/John Adams Correspondence on Religion, Morals, and Values
Prometheus Books, Hardcover, 9781591023562, 258pp.
Publication Date: November 1, 2005
* Individual store prices may vary.
Not Currently Available for Direct Purchase
or
Shop Local
Enter your zip code below to purchase from an indie close to you.
Description
The "Culture Wars" have produced a lot of talk about religion, morals, and values, with both sides often hearkening back to our Founding Fathers. Here is your chance to learn firsthand what two of the most influential pillars of the American Republic thought about these perennial topics. From 1812 to July 4, 1826 — when ironically death claimed both men — Thomas Jefferson and John Adams exchanged letters touching on these still controversial issues.
These little-known letters contain many surprising revelations. In the 1800 presidential election, in which the Republican Jefferson opposed the Federalist Adams, religion was a topic of hot debate, as reflected in this correspondence written many years after. What was it about Jefferson's religious beliefs that provoked such vitriol against him in the campaign? And what was there in Adams's theology that prompted certain Calvinists and Trinitarians to label him "no Christian"? Though they expressed different opinions, Jefferson and Adams agreed on what they called the "corruptions of Christianity." Despite their criticisms and their critics, both men considered themselves Christians, in different senses of the term.
Hearing these champions of liberty and freedom of religion speak out frankly on church and state, the Bible, Jesus, Christianity, morality, and virtue, modern readers may well ask themselves whether either of these Founding Fathers could today be elected president. Editor Bruce Braden has done us all a service by collecting this revealing and intimate historical correspondence on topics that continue to stir emotions and debate in the 21st century.
About the Author
Thomas Jefferson was born in Virginia in 1743 into a wealthy and socially prominent family. After attending the College of William and Mary, he went on to study law. At the age of twenty-six, Jefferson began building Monticello. Three years later, in 1772, he married Martha Wayles Skelton. The couple had six children, two of whom survived to adulthood. Considered elequent in his writing, although not as his speech, Jefferson took on much of the writing needed by the Virginia House of Burgesses and the Continental Congress, both of which he was a member. In 1776, at the young age of 33, Jefferson drafted the Declaration of Independence. From 1779 to 1781, Jefferson served as Governor of Virginia. Jefferson temporarily retired from public life after his term as governor, returning to public life in 1784 as a diplomat serving in France. In 1790, Jefferson was appointed Secretary of State in President Washington's Cabinet, but resigned in 1793 over a disagreement with Alexander Hamilton. As political disagreements continued to polarize the young government, Jefferson found himself leading those who sympathized with the revolutionary cause in France. In 1800, Jefferson was elected President in a tie vote that ironically was decided by Alexander Hamilton. In 1809, after two terms as President, Jefferson returned to his home in Monticello, where he developed, among other projects, plans for the University of Virginia. In addition, he sold his collection of books to the government to form the basis of the Library of Congress. Thomas Jefferson died on July 4, 1826.


Praise For Ye Will Say I Am No Christian…
"If you're interested in knowing at firsthand what John Adams and Thomas Jefferson, those two wonderful letter-writers, thought about philosophy, ethics, and religion (particularly Christianity), Bruce Braden's carefully edited collection of their correspondence during the early years of the American republic is indispensable. The two men stimulated each other by their exchanges, and this compilation will stimulate you too."
Paul F. Boller Jr.
Emeritus Professor of History
Texas Christian University
"Braden renders a significant service in making available the stimulating, provocative, elegant correspondence between Thomas Jefferson and John Adams on the subjects of religion and morality. We are in his debt."
Edwin S. Gaustad
Author of Sworn on the Altar of God:
A Religious Biography of Thomas Jefferson
"What a pleasure and benefit it is to have these splendid letters again in print! Thomas Jefferson and John Adams are national treasures, especially in these elegant, interesting, and profound exchanges about religion, philosophy, and morals. The warmth and trust of their friendship as revealed in these letters makes them especially rich and rewarding to read. That the writers were signers of the Declaration of Independence and then the second and third presidents of the United States makes the exchanges especially significant for all Americans."
Ralph Ketchum, Professor Emeritus
The Maxwell School, Syracuse University