The First Amendment, Freedom of the Press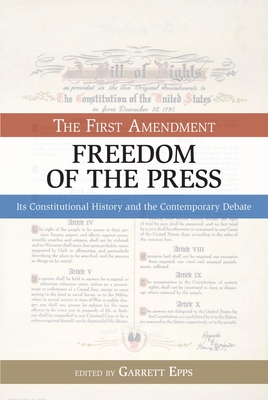 The First Amendment, Freedom of the Press
Its Constitutional History and the Contemporary Debate
Prometheus Books, Paperback, 9781591025634, 366pp.
Publication Date: December 1, 2008
* Individual store prices may vary.
Buy at Local Store
Enter your zip code below to purchase from an indie close to you.
or
Not Currently Available for Direct Purchase
Description
The press in the United States is freer than in any other country in the world, and virtually any in history. American courts give critics of society and government extraordinary freedom to disseminate views that are unpopular, subversive, and even hateful. How did freedom of the press evolve over the centuries, what values does American press freedom claim to serve today, and what challenges will this right face in the twenty-first century? These are some of the important questions addressed in this scholarly but accessible volume on one of our most important freedoms guaranteed by the First Amendment.

Award-winning legal scholar Garrett Epps has selected significant historical and contemporary articles in addition to a sampling of key cases on freedom of the press in this outstanding collection. Beginning with a history of the idea of press freedom in England and America, he includes classic essays by John Milton, Thomas Jefferson, and John Stuart Mill, among others. A selection of landmark cases follows, which span the twentieth century and include such major issues as censorship vs. national security, reporters' protected sources, the definition of obscenity, and other issues. A section of contemporary essays includes contributions by Justice Hugo Black, Justice Potter Stewart, Alexander Meiklejohn, Robert Bork, and others.

In conclusion, Epps offers brief selections from other cultures on freedom of the press and he examines the unprecedented challenges to a free press in the twenty-first century from a global Internet culture that allows information to cross all borders and makes the definition of journalism fuzzy.
About the Author
Garrett Epps is the author of "The Shad Treatment" and "The Floating Island: A Tale of Washington". He is Orlando John and Marian H. Hollis Professor at the University of Oregon School of Law where he teaches constitutional law and a special course in creative writing for law students. Epps writes fiction and poetry as well as nonfiction, and has translated or adapted literature into English from both Spanish and Italian. He has two children, Daniel and Maggie.

David B. Oppenheimer is Associate Dean for Academic Affairs and Professor of Law at Golden Gate University.