Pressured Parents, Stressed-Out Kids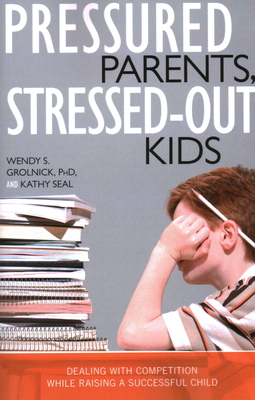 Pressured Parents, Stressed-Out Kids
Dealing with Competition While Raising a Successful Child
Prometheus Books, Paperback, 9781591025665, 290pp.
Publication Date: January 31, 2008
* Individual store prices may vary.
Buy at Local Store
Enter your zip code below to purchase from an indie close to you.
or
Not Currently Available for Direct Purchase
Description
It begins harmlessly. Parents chatting on the playground compare their babies' first milestones: "Has Erin started talking? Addy's already using five-word sentences " Inevitably, Erin's mom and dad feel anxious. Later, as report cards, standardized tests, tryouts, playoffs, auditions and social cliques fill their child's world, parents' anxiety intensifies. The older kids get, the more competition they face, whether in sports, academics or the arts. Hovering in the background is the race for admission to a top-tier college.
To help panicky parents deal with the torrential emotions stirred up by our competitive society, and to give them scientific knowledge about their children's growing years, leading child researcher Wendy Grolnick and educational and parenting journalist Kathy Seal offer this illuminating and accessible guide to channeling competitive anxiety into positive parenting. While evolution has given parents a genetic predisposition toward this protective anxiety whenever their children face today's heightened competition, the authors guide parents to avoid pushing and pressuring, turning their fear instead into calm guidance.
Distilling the results of thirty years of research in child psychology, the authors focus on three essential feelings autonomy, competence, and connectedness which parents can foster in their children to maximize the child's chances of success and minimize family conflict. They explain that granting kids autonomy lets them feel that they can solve their own problems and are responsible for their own actions. At the same time, providing structure gives kids the guidelines, information, limits, and consequences that they need to act in the world, instilling them with a feeling of competence. Finally, support from adults in the form of time and other resources provides children with a necessary feeling of connection and helps them internalize the ideas and values of their caring parents. Reassuring and empathic, Grolnick and Seal show parents how to avoid the burn-out in both parents and children that afflicts so many in our highly competitive society, while raising children who thrive and excel.
About the Author


Kathy Seal has written for publications including "The New York Times, Family Circle, "and "Parents" as well as for educators' magazines. She lives in Santa Monica, California.
Praise For Pressured Parents, Stressed-Out Kids…
"A first rate book. Even we sports fans who think competition can be good for kids have to admit that this book illuminates those moments when beating the other kid, or besting the family down the block, is distinctly unhealthy. The advice it offers to parents who feel real pain at such moments, who don't know how to control their own longing to succeed through their children, is the most sensible I have ever read."
--Jay Mathews, Washington Post columnist

"… required reading for all parents who want what is best for their children. They will be surprised and grateful for the many insights it provides on what really motivates kids. It is highly readable, scientifically grounded, and serves up generous helpings of valuable and practical information."
--Dr. Lawrence Balter, professor of applied psychology at New York University,
parent educator, and editor of Parenthood in America: An Encyclopedia