Fast Forward 2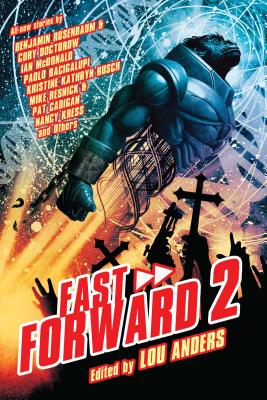 Fast Forward 2
Pyr, Paperback, 9781591026921, 360pp.
Publication Date: October 21, 2008
* Individual store prices may vary.
Buy at Local Store
Enter your zip code below to purchase from an indie close to you.
or
Not Currently Available for Direct Purchase
Description
When Fast Forward 1 debuted in February 2007, it marked the first major all-original, all-SF anthology series to appear in some time—and it was met with a huge outpouring of excitement and approbation from the science fiction community. No less than seven stories from Fast Forward 1 were chosen to be reprinted a total of nine times in the four major "Best of the Year" retrospective anthologies, a wonderful testament to the quality of contributions in our inaugural book. What's more, Fast Forward 1 was hailed repeatedly as leading the charge in a return of original, unthemed anthologies series (several more have since appeared in our wake). Now the critically-acclaimed, groundbreaking series continues, featuring all new stories from: Paul Cornell, Kay Kenyon, Chris Nakashima-Brown, Nancy Kress, Jack Skillingstead, Cory Doctorow and Benjamin Rosenbaum, Jack McDevitt, Paul McAuley, Mike Resnick and Pat Cadigan, Ian McDonald, Kristine Kathryn Rusch, Karl Schroeder and Tobias S. Buckell, Jeff Carlson and Paolo Bacigalupi.
About the Author
A 2009/2008/2007 Hugo Award nominee, 2008 Philip K. Dick Award nominee, 2008/2006 Chesley Award winner/nominee, and 2006 World Fantasy Award nominee, Lou Anders is the editorial director of Prometheus Books' science fiction and fantasy imprint Pyr, as well as the anthologies With Great Power... (Gallery Books, July 2010), Swords & Dark Magic (Eos, June 2010, coedited with Jonathan Strahan), Fast Forward 2 (Pyr, October 2008), Sideways in Crime (Solaris, June 2008), Fast Forward 1 (Pyr, February 2007), FutureShocks (Roc, January 2006), Projections: Science Fiction in Literature & Film (MonkeyBrain, December 2004), Live Without a Net (Roc, 2003), andOutside the Box (Wildside Press, 2001). In 2000, he served as the Executive Editor of Bookface, and before that he worked as the Los Angeles Liaison for Titan Publishing Group. He is the author of The Making of Star Trek: First Contact (Titan Books, 1996), and has published over 500 articles in such magazines as The Believer, Publishers Weekly, Dreamwatch, DeathRay, free inquiry, Star Trek Monthly, Star Wars Monthly, Babylon 5 Magazine, Sci Fi Universe, Doctor Who Magazine, and Manga Max. His articles and stories have been translated into Danish, Greek, German, Italian & French.