Distracted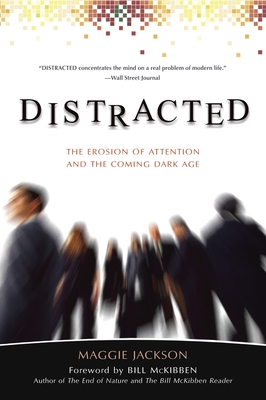 Distracted
The Erosion of Attention and the Coming Dark Age
Prometheus Books, Paperback, 9781591027485, 327pp.
Publication Date: September 22, 2009
* Individual store prices may vary.
Buy Now
or
Shop Local
Enter your zip code below to purchase from an indie close to you.
Description
In this gripping expose of our cyber-centric, attention-deficient life, journalist Maggie Jackson argues that we are eroding our capacity for deep attention the building block of intimacy, wisdom, and cultural progress. The implications for a healthy society are stark.
Despite our wondrous technologies and scientific advances, we are nurturing a culture of diffusion and detachment. With our attention scattered among the beeps and pings of a push-button world, we are less and less able to pause, reflect, and deeply connect.
In her sweeping quest to unravel the nature of attention and detail its losses, Jackson introduces us to scientists, cartographers, marketers, educators, wired teens, and even roboticists. She offers us a compelling wake-up call, an adventure story, and reasons for hope.
As the author shows, neuroscience is just now decoding the workings of attention, with its three pillars of focus, awareness, and judgment, and revealing how these skills can be shaped and taught. This is exciting news for all of us living in an age of overload.
Pull over, hit the pause button, and prepare for an eye-opening journey. More than ever, we cannot afford to let distraction become the marker of our time.
"From the Hardcover edition.
About the Author
Maggie Jackson is a senior lecturer at the University of Teesside. She has previously worked as a teacher and as a practitioner-therapist for a psychological service.

Bill McKibben is American author of a dozen books about the environment, beginning with The End of Nature in 1989, which is regarded as the first book for a general audience on climate change. He is a founder of the grassroots climate campaign 350.org, which has coordinated 15,000 rallies in 189 countries since 2009. Time Magazine called him "the planet's best green journalist," and the Boston Globe said in 2010 that he was "probably the country's most important environmentalist." McKibben is a frequent contributor to various magazines including The New York Times, The Atlantic Monthly, Harper's, Orion Magazine, Mother Jones, The New York Review of Books, Granta, Rolling Stone, and Outside. He is also a board member and contributor to Grist Magazine. McKibben has been awarded Guggenheim and Lyndhurst Fellowships, and won the Lannan Prize for nonfiction writing in 2000. He is a scholar in residence at Middlebury College.