Shocking Cases from Dr. Henry Lee's Forensic Files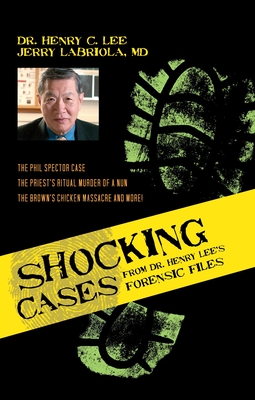 Shocking Cases from Dr. Henry Lee's Forensic Files
The Phil Spector Case, the Priest's Ritual Murder of a Nun, the Brown's Chicken Massacre and More!
Prometheus Books, Hardcover, 9781591027751, 264pp.
Publication Date: February 2010
* Individual store prices may vary.
Buy Now
or
Shop Local
Enter your zip code below to purchase from an indie close to you.
Description
Dr. Henry C. Lee is highly regarded throughout the law-enforcement community as one of the most talented and experienced forensic scientists in the world. He has also received widespread public recognition and media attention through his association with sensational criminal investigations, including the JFK assassination, the suicide of White House counsel Vincent Foster, the Chandra Levy homicide, the O.J. Simpson and JonBenet Ramsey cases, and, most recently, the Caylee Anthony case. In this new book, Dr. Lee and critically acclaimed mystery writer Jerry Labriola, MD, team up again to present another true-crime page-turner on five notorious incidents:
The Phil Spector case: Legendary music mogul Phil Spector was charged with murder in the death of actress Lana Clarkson, found slain in his mansion. But has Dr. Lee produced forensic evidence suggesting her death was a suicide?
The Brown's Chicken massacre: The savage murder of helpless employees of a restaurant in Palatine, Illinois, was left unsolved for over a decade until the painstaking forensic skills of Task Force and Dr. Lee eventually identified the killers.
Murder in the Sacristy: The brutal murder of a nun in a Toledo, Ohio, church had bizarre ritualistic overtones and remained unsolved until a priest was prosecuted twenty-six years later the same priest who had conducted the nun's funeral service Dr. Lee testified at the trial of the priest and here he demonstrates how the perseverance of law enforcement officials and forensic scientists eventually solved the crime.
The shooting of a Connecticut state trooper and the shooting death of a fourteen-year-old young man: Dr. Lee discusses the dual hazards of police work being killed or injured in the line of duty and the accidental killing of innocent victims or suspects. In Hartford, while racial tensions threatened to spin out of control, Dr. Lee reconstructed the shooting of a young African American by a police officer. His diligent work defused hostilities that nearly led to a riot.
Genocide in Bosnia-Herzegovina: Dr. Lee discusses his role in the excavation and, in some cases, the identification of hundreds of bodies in the former Yugoslavia. The evidence he uncovered was later used to build a case against suspects indicted by the International War Crimes Tribunal.
Combining fascinating details of forensic science with a vivid narrative, "Shocking Cases from Dr. Henry Lee's Forensic Files" is must reading for true-crime readers and forensic science lovers.
About the Author
Dr. Henry C. Lee (Branford, CT), Professor of Forensic Science at the University of New Haven and Chief Emeritus in the Department of Public Safety in Meriden, CT, has been a consultant for over 300 police and law enforcement agencies and an expert witness in many high profile cases for both the prosecution and the defense. A distinguished fellow of the American Academy of Forensic Sciences, he is the author or coauthor of more than 20 books, including Cracking Cases. Dr. Lee has been a frequent guest on Larry King Live as well as numerous other national television programs.

After his first exposure to forensic pathology while serving in the U.S. Navy, Dr. Jerry Labriola practiced medicine for 35 years and was an Assistant Professor at the University of Connecticut Medical School. He is the author of seven mystery novels. He is also coauthor with renowned forensic scientist, Dr. Henry Lee, of four books dealing with forensic science: Famous Crimes Revisited; Dr. Henry Lee's Forensic Files; The Budapest Connection; and Shocking Cases. In the first two, they examine 12 well-known criminal cases, including Charles Lindbergh, Sam Sheppard, JFK, Vincent Foster, JonBenet Ramsey, O.J. Simpson, Scott Peterson, and the abduction of Elizabeth Smart. Their most recent book includes the Phil Spector case and Dr. Lee's experiences identifying bodies in the genocide atrocities in Bosnia and Croatia. Dr. Labriola's latest work =ust released is a mystery/suspense novel titled, Scent of Danger.