Revolution in a Bottle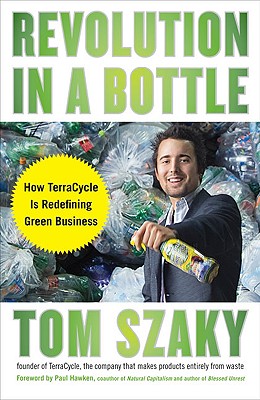 Revolution in a Bottle
How TerraCycle Is Redefining Green Business
Portfolio, Paperback, 9781591842507, 189pp.
Publication Date: April 1, 2009
* Individual store prices may vary.
Buy at Local Store
Enter your zip code below to purchase from an indie close to you.
or
Not Currently Available for Direct Purchase
Description
The amazing story of what Inc. calls "The coolest little startup in America."
While a freshman at Princeton, Tom Szaky co- founded a company that recycles garbage into worm poop, liquefies it, then packages it in used soda bottles, creating TerraCycle Plant Food. Five years later, this all-natural, highly effective fertilizer is available in every Home Depot, Target, Wal?Mart, and more than 3000 other locations. It's a thrilling entrepreneurial success story-and just the beginning of what makes "Revolution in a Bottle" fascinating.
Szaky argues for a new approach to business, an "ecocapitalism" based on a "triple bottom line." Every business, he says, should aspire to be good for people, good for the environment, and (last but definitely not least) good for profits. He shows how the first two goals can help the third.
Many companies brag about being environmentally-friendly. But no one does it as effectively as TerraCycle. Now they're also reusing garbage to create new products, from bird feeders to tote bags, and even engaging major companies like Kraft and General Mills to sponsor their waste streams.
In the spirit of TerraCycle, this book will be printed on 100% recycled materials.
About the Cover:
This may look like a book jacket, but it's actually your very own upcycling container. Tom Szaky, founder of TerraCycle, is dedicated to eliminating the concept of waste. His firm works with other companies to collect and reuse nonrecyclable packaging and upcycle it into eco-friendly affordable products. And they want your help.
One such company is Bear Naked(r), an all-natural food and lifestyle brand that has partnered with Terra-Cycle to operate the Bear Naked(r) Bag Brigade. This free program makes a donation to a school or nonprofit for every bag a participant collects. Now you can join in by using your book jacket as an envelope. See the back flap for instructions-it's easy. Then fill it with a used Bear Naked(r) granola bag and drop it in a mailbox to become a part of TerraCycle's eco- revolution Bear Naked(r) will even donate $1 to plant a tree in American Forests, up to $5,000. Offer expires 12/31/09 or after the first 25,000 copies are sold, whichever comes first.
About the Author
Tom Szaky is the founder and CEO of TerraCycle, an international leader in the collection and repurposing of hard-to-recycle post-consumer waste, from used chip bags to cigarette butts. On a yearly basis and across 23 countries, TerraCycle collects and repurposes billions of pieces of waste, creating millions of dollars of donations for schools and charities in the process. Many of the world's largest consumer product companies contract with TerraCycle to collect and recycle post-consumer products and packaging. Through TerraCycle, Tom has pioneered a process, involving manufacturers, retailers, consumers, and community groups, to create circular solutions for waste that otherwise would go to landfills or be incinerated.
Tom is the author of two other books, Revolution in a Bottle (April 2009) and Outsmart Waste (January 2014). He is an acclaimed international public speaker, making presentations to corporate and academic audiences regularly. Tom created, produces, and stars in a new reality TV show, Human Resources, currently airing on Pivot TV. Tom and TerraCycle have received more than 100 social, environmental, and business awards from a range of organizations including the United Nations, World Economic Forum, and the Environmental Protection Agency.
Paul Hawken's bestselling books include Blessed Unrest, Natural Capitalism, and The Next Economy. He has also written dozens of articles, op-eds, and papers concerning the responsibility of business to the natural environment. His writings have appeared in the Harvard Business Review, Inc magazine, the Boston Globe, the Utne Reader, and more than a hundred other publications.