How Did That Happen?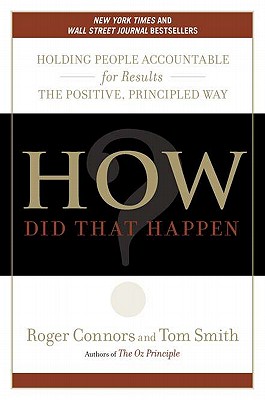 How Did That Happen?
Holding People Accountable for Results the Positive, Principled Way
Portfolio, Hardcover, 9781591842583, 252pp.
Publication Date: August 11, 2009
* Individual store prices may vary.
Buy Now
or
Shop Local
Enter your zip code below to purchase from an indie close to you.
Description
A simple, proven approach to improve accountability and your company's bottom line.
The economy crashes, the government misfires, businesses fail, leaders don't lead, managers don't manage, and the people we count on for the results that affect our own performance don't follow through, leaving us asking, "How did that happen?"
All the surprises caused by a lack of personal accountability plague almost every organization today, from the political arena to every large and small business. How Did That Happen? offers a proven way to eliminate these nasty surprises, gain an unbeatable competitive edge, and enhance performance by holding others accountable the positive, principled way.
As the experts on workplace accountability and authors of The Oz Principle, the classic book on personal accountability, Roger Connors and Tom Smith now tackle the next crucial step everyone can take, whether as a manager, supervisor, CEO, or individual performer: creating greater accountability in all the people on whom you depend.
Connors and Smith have spent decades implementing their approach to creating greater accountability in some of the world's most admired companies. Through hundreds of successful client applications, they have proven that organizational accountability can be the single most important factor in ensuring a company's success. Now, they present the Accountability Sequence, a systematic and sensible approach that includes two essential components: The Outer Ring, which reveals how to establish expectations and positive accountability connections with everyone in the Expectations Chain. The Inner Ring, which shows how to manage unmet expectations when people fail to deliver and thereby reverse the misfortune of missed results.
Using case studies, practical models, and self-assessments, the authors make it possible for anyone to install accountability as a central part of their daily work, their team's efforts, or an overall corporate culture-and, in turn, increase profits and generate better results.
About the Author
Roger Connors and Tom Smith are cofounders of Partners in Leadership, an international management consulting firm with hundreds of clients in almost all major industries. They are also the coauthors of "Journey to the Emerald City", a sequel to "The Oz Principle". Craig R. Hickman is coauthor of the international bestseller "Creating Excellence" and author of "Mind of a Manager" and other business books.

Tom Smith, MD, spent several years as a general practitioner and medical researcher before taking up writing full-time. He contributes regularly to medical journals, has a weekly health column in two newspapers and is the author of several books about living and coping with serious medical conditions.
Praise For How Did That Happen?…
"Definitely the 'go-to' book for teaching organizational accountability that works- without the backlash."
-Stephen R. Covey, author, The 7 habits of Highly Effective People

"Packed with practical tools and insights, this is the book that can help you turn accountability from concept into reality."
-Jim Mazzo, president, Abbott Medical Optics

"Connors and Smith have done it again! . . . This book will provide a competitive advantage at a time when 'accountability' is more important than ever before!"
-David Brandon, chairman and CEO, Domino's Pizza, Inc.

"This is the right approach for getting results in today's global environment."
-Gregory J. Newell, former U.S. ambassador and assistant secretary of state

"How Did That Happen? clearly outlines the path to accountability. . . . We will place a copy of this book in the hands of all leaders throughout our organization."
-Michael Lippert, chief operating officer, Arby's Restaurant Group, Inc.

"Creating greater accountability in a way that captures people's hearts and minds is harder than it looks. . . . How Did That Happen? delivers specific and practical advice to do just that."
-Ginger Graham, former CEO, Amylin Pharmaceuticals, Inc.

"Connors and Smith offer an insightful view into the underpinnings of accountability that translate into spectacular and sustainable results."
-Michael Kneidinger, vice president of worldwide operations, Hard Rock CafT International

"How Did That Happen? peels back the onion on achieving sustained accountability."
-Jeff Brundage, senior vice president of human resources, American Airlines