The Reinventors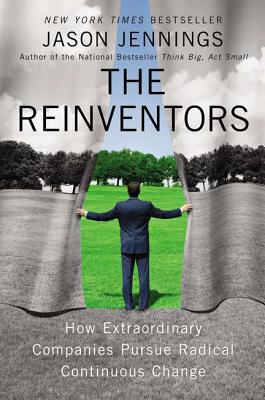 The Reinventors
How Extraordinary Companies Pursue Radical Continuous Change
Portfolio, Hardcover, 9781591844235, 246pp.
Publication Date: May 10, 2012
* Individual store prices may vary.
Buy Now
or
Shop Local
Enter your zip code below to purchase from an indie close to you.
Description
For most businesses, success is fleeting. There are only two real choices: stick with the status quo until things inevitably decline, or continuously change to stay vital. But how? Bestselling leadership and management guru Jason Jennings and his researchers screened 22,000 companies around the world that had been cited as great examples of reinvention. They selected the best, verified their success, interviewed their leaders, and learned how they pursue never-ending radical change. The fresh insights they discovered became Jennings's "reinvention rules" for any business. The featured companies include: Starbucks-which turned itself around by making tons of small bets on new ideas. Fresher store designs, better food products, and free Wi-Fi were a few of the results. Apollo Tyres-which launched the Apollo Academy to train everyone and reinvented how it finds, keeps, and grows people. It went from five hundred million to two billion in annual sales in only a few years. Arrow Electronics-which found success by solving problems that drove its customers crazy and has become a twenty-billion-dollar electronics giant by shifting its focus from selling commodities to custom tailoring solutions. Smithfield Foods-which faced a PR crisis over the way it slaughtered animals and polluted the environment and transformed itself by hiring an environmental activist and empowering him to transform the company's ethos. If you're ready to toss same old, same old out the door, The Reinventors will become your road map to successfully pursuing continuous change. It will help your company stay relevant for years to come.
About the Author
Jason Jennings became the world's youngest owner of a radio station when, at age twenty-one, he purchased KEOS In Flagstaff, Arizona. With speed and success that became legendary in the industry, he used his Innovative approach to business to propel his radio station group to the top of the Industry. Today, his company, Jennings Partners, is an International consultation practice that serves retail, manufacturing, distribution, and communications clients. He and his partner live in Tiburon, California.