The Ultralight Startup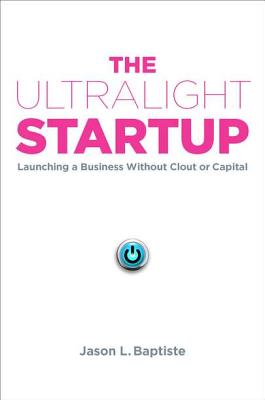 The Ultralight Startup
Launching a Business Without Clout or Capital
Portfolio, Hardcover, 9781591844860, 230pp.
Publication Date: April 12, 2012
* Individual store prices may vary.
Buy at Local Store
Enter your zip code below to purchase from an indie close to you.
or
Not Currently Available for Direct Purchase
Description
When I was first starting out, I had to learn many things by trial and error, and I know I could have saved myself a lot of grief if someone had given me advice on what to do. I hope this book will help and inspire you to pursue your passion while avoiding some of the mistakes I made.
It's easier than ever before to launch a startup. But in a world where barriers to entry are virtually nonexistent and everyone wants to be the next Facebook, competition is fierce. If you re just beginning and lack the money and clout to make an automatic splash, how do you differentiate yourself from all the rest?
Jason Baptiste knows firsthand what it takes. After launching his first company while still in college, he cofounded his current venture, Onswipe, in his early twenties, turning it into a multimillion-dollar company in less than a year. Now, drawing on his own experience as a bootstrapping but hungry entrepreneur, as well as on examples from today's most famous companies, he guides would-be tech moguls through every stage of the process from testing a concept to acquiring customers to determining the best pricing model in a cheap, practical way. Among his strategies:

Build the product you wish you had: Foursquare founder Dennis Crowley created an early version of his product because he wanted to keep in touch with former colleagues.

It doesn t have to be sexy to make money: Dropbox took the world by storm by offering a great solution to a mundane problem online storage.

Be bold when promoting yourself: Online payment service WePay capitalized on dissatisfaction with industry leader PayPal by dumping six hundred pounds of ice in front of a developer conference.

Attract fans to attract customers: Budget tracking site Mint.com created its initial user base by offering original and useful content about personal finance.

Baptiste shows you don t need an MBA, a trust fund, or even experience running your own company to become a star in the tech world. The Ultralight Startup is a comprehensive, easy-to-follow guide that will prepare any entrepreneur to take his or her idea to the next level.
About the Author
Jason L. Baptiste is the CEO and cofounder of Onswipe, a platform for tablet publishing and advertising and one of Time s 10 Best Start-ups in 2011. Baptiste has been named to BusinessWeek s Top 25 Under 25 entrepreneurs and Inc. s 30 Under 30. He is also one of the stars of Bloomberg s TechStars, a show that chronicled the first six months of Onswipe s history in the TechStars program for young startups. In his spare time, Baptiste is an avid runner, blogger, and adviser to other startups. He is a graduate of the University of Miami and currently resides in New York City."
Praise For The Ultralight Startup…
"Jason gives us a rare behind-the-scenes look at the modern startup."

--Seth Godin, author of We Are All Weird

"How do you start something big when you have so little? Good news! It's now possible to launch and grow a successful startup without having a rich uncle or celebrity connections. This book shows you how. Immensely useful reading for anyone starting something new."


--Dharmesh Shah, cofounder and CTO of Hubspot

"Part handbook, part manifesto, The Ultralight Startup is an inspirational and indispensable tool for anyone interested in getting a business off the ground."

--James Marshall Reilly, author of Shake the World

"If you want to be a tech star, you've found your field manual. Jason's straightfor­ward business advice will make you money and save your sanity. The chapters on PR and fundraising alone are worth the investment."


--Josh Kaufman, author of The Personal MBA: Master the Art of Business

"In a world where raising venture capital seems like the default first step for Internet entrepreneurs, Jason does a fantastic job providing a detailed and cur­rent road map for how to get your company to the point where that is a realistic option. The challenges each startup faces are common at the earliest stage of a company and this book will enable entrepreneurs to skip some easy pitfalls and utilize tactics that will give your company a chance to break out."


--Dave Tisch, managing director of TechStars NYC

"Jason captures what it really takes to build a world-changing startup from scratch. The Ultralight Startup is light on theory and heavy on practical nuts and bolts advice that you can implement today. This book will change the way you think about getting your company off the ground."


--David Cohen, CEO of TechStars

"Jason packs an awesome amount of knowledge, experience, wisdom, and practical advice into this tour de force of a book about starting a tech company. If you are thinking about or in the early stages of starting your company, this is an absolute must read."
--Brad Feld, managing director of the Foundry Group