What Makes a Hero?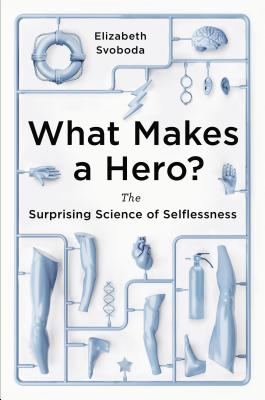 What Makes a Hero?
The Surprising Science of Selflessness
Current, Hardcover, 9781591845287, 225pp.
Publication Date: August 29, 2013
* Individual store prices may vary.
Buy at Local Store
Enter your zip code below to purchase from an indie close to you.
or
Not Currently Available for Direct Purchase
Description
An entertaining investigation into the biology and psychology of why we sacrifice for other people
Researchers are now applying the lens of science to study heroism for the first time. How do biology, upbringing, and outside influences intersect to produce altruistic and heroic behavior? And how can we encourage this behavior in corporations, classrooms, and individuals?
Using dozens of fascinating real-life examples, Elizabeth Svoboda explains how our genes compel us to do good for others, how going through suffering is linked to altruism, and how acting heroic can greatly improve your mental health. She also reveals the concrete things we can do to encourage our most heroic selves to step forward.
It's a common misconception that heroes are heroic just because they're innately predisposed to be that way. Svoboda shows why it's not simply a matter of biological hardwiring and how anyone can be a hero if they're committed to developing their heroic potential.
About the Author
Elizabeth Svoboda is a science writer who has contributed to the New York Times, Psychology Today, and O: the Oprah Magazine. Her first book, What Makes a Hero?: The Surprising Science of Selflessness, came out in 2013 and was excerpted in Discover and the Wall Street Journal. She lives in San Jose, CA, with her husband and young son.
Praise For What Makes a Hero?…
What Makes a Hero? is really about how to become a better person—a subject science has more to say about than you might expect. The world would be a better place if everyone read Elizabeth Svoboda's fun, fascinating, and deeply researched book.
 
—Joshua Foer, author of Moonwalking with Einstein: The Art and Science of Remembering Everything
 
In this readable and engaging volume, Elizabeth Svoboda weaves research, public narratives and personal stories together to demonstrate the counter-intuitive truth of her title: that heroic action can be learned; that heroic inclinations can be nurtured; and that "heroes" can, in fact, be made. We all have it in us, and through rehearsal, practice, self-insight and peer support, we can bring our inner heroes to light.
 
—Mary C. Gentile, Ph.D., author of Giving Voice To Values: How To Speak Your Mind When You Know What's Right

It's a joy to join the journey of Elizabeth Svoboda, a young writer and researcher, as she brings together personal stories and exciting studies to explain what pushes us to aid others—from daily helping to headlined heroic acts.
 
—Allan Luks, co-author of The Healing Power of Doing Good
 
In these trying times involving global political conflict and economic hardship, Elizabeth Svoboda gives us all hope that science can show humanity the right path. Her book artfully describes the psychological and physiological explanations behind altruism and heroism—which just might crack the toughest cynic. But must importantly, she gives us a glimpse into how we all hold it within ourselves to make our immediate communities a little bit better.
 
—Cyrus Farivar, author of The Internet of Elsewhere and senior business editor of Ars Technica
 
Kudos to Elizabeth Svoboda for answering the question What Makes a Hero? She examines every facet that contributes to heroic behavior: genes, neurobiology, thoughts and feelings, social forces. She even does her own "experiments" in heroism and shares her results. A must-read for anyone curious about real-life heroism.
 
—Robin Rosenberg, Ph.D., psychologist and author, Superhero Origins: What Makes Superheroes Tick and Why We Care; editor, What Is a Superhero?
 
Elizabeth Svoboda's engaging new book explores what makes a hero—and reveals science behind the greatness and generosity possible to any human being.
 
—Jill Neimark, co-author of Why Good Things Happen to Good People