Trust Me, I'm Lying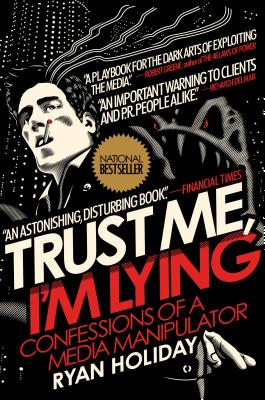 Trust Me, I'm Lying
Confessions of a Media Manipulator
Portfolio, Hardcover, 9781591845539, 259pp.
Publication Date: July 19, 2012
* Individual store prices may vary.
Buy at Local Store
Enter your zip code below to purchase from an indie close to you.
or
Not Currently Available for Direct Purchase
Description
You've seen it all before. A malicious online rumor costs a company millions. A political sideshow derails the national news cycle and destroys a candidate. Some product or celebrity zooms from total obscurity to viral sensation. What you don't know is that someone is responsible for all this. Usually, someone like me.
I'm a media manipulator. In a world where blogs control and distort the news, my job is to control blogs-as much as any one person can.
In today's culture...
1) Blogs like Gawker, Buzzfeed and the Huffington Post drive the media agenda.
2) Bloggers are slaves to money, technology, and deadlines.
3) Manipulators wield these levers to shape everything you read, see and watch-online and off.
Why am I giving away these secrets? Because I'm tired of a world where blogs take indirect bribes, marketers help write the news, reckless journalists spread lies, and no one is accountable for any of it. I'm pulling back the curtain because I don't want anyone else to get blindsided.
I'm going to explain exactly how the media really works. What you choose to do with this information is up to you.
About the Author
Ryan Holiday is the bestselling author of "Trust Me I'm Lying: Confessions of a Media ""Manipulator". After dropping out of college at 19 to apprentice under Robert Greene, author of "The 48 Laws of Power", he went on to advise many bestselling authors and multiplatinum musicians, and served as director of marketing at American Apparel. He currently lives in Austin and writes for "Thought Catalog "and the "New York Observer".
Praise For Trust Me, I'm Lying…
"Ryan Holiday is part Machiavelli, part Ogilvy, and all results…this whiz kid is the secret weapon you've never heard of."
—Tim Ferriss, #1 New York Times bestselling author of The 4-Hour Workweek "A playbook for the dark arts of exploiting the media"
—Robert Greene, author of The 48 Laws of Power "This book will make online media giants very, very uncomfortable. "
— Drew Curtis, founder, Fark.com "Ryan Holiday's brilliant exposé of the unreality of the Internet should be required reading for every thinker in America."
— Edward Jay Epstein, author of The Big Picture"
 "The strategies Ryan created to exploit blogs drove sales of millions of my books and made me an internationally known name." —Tucker Max, #1 New York Times bestselling author of I Hope They Serve Beer in Hell
"Ryan has a truly unique perspective on the seedy underbelly of digital culture."
—Matt Mason, Director of Marketing, BitTorrent

"Behind my reputation as marketing genius there is Ryan Holiday, whom I consult often and has done more for my business than just about anyone."
—Dov Charney, CEO and founder, American Apparel

"...an astonishing, disturbing book"—Financial Times
"In the world of the internet celebrity, Ryan Holiday is the smart and handsome type, like the Arthur Miller to the girl who uploads YouTube videos of herself naked and eating ice cream."
—Ladygunn Magazine
"This is a dark book with an important warning to clients and PR people alike."—Richard Edelman "[Like] Upton Sinclair on the blogosphere."—Tyler Cowen, MarginalRevolution.com