Unintended Consequences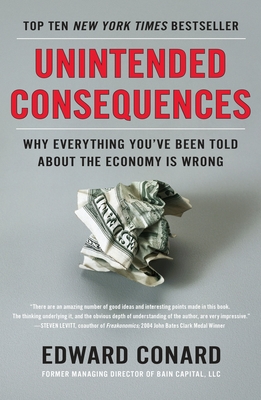 Unintended Consequences
Why Everything You've Been Told about the Economy Is Wrong
Portfolio, Paperback, 9781591846307, 310pp.
Publication Date: April 30, 2013
* Individual store prices may vary.
Buy at Local Store
Enter your zip code below to purchase from an indie close to you.
or
Not Currently Available for Direct Purchase
Description
Was our country's economic success before the Crash of 08 built on false pretenses? Did we simply borrow and spend too much, or was something else really going on?
The conventional wisdom now accuses Wall Street and the mortgage industry of using predatory tactics to seduce homeowners. Meanwhile, average Americans are blamed for increasing consumption to unsustainable levels by borrowing recklessly. And the tax policies of the Reagan and Bush administrations are blamed for encouraging reckless risk-taking.
Edward Conard disagrees. In an attempt to set the record straight he presents a fascinating new case for how the economy really works, why the U.S. has outperformed other countries, what caused the financial crisis, and what improvements might better protect our economy without damaging growth.
About the Author
Edward "Ed" Conardis the author of the"New York Times"top-ten bestselling book, "Unintended Consequences: Why Everything You've Been Told About the Economy Is Wrong"(2012). He is a visiting scholar at the American Enterprise Institute. Previously, he was a founding partner of Bain Capital, where he worked closely with his friend and colleague, former presidential candidate Mitt Romney.

In May of 2012, Conard published U"nintended Consequences: Why Everything You've Been Told About the Economy Is Wrong." The book was featured on the cover of the"New York Times"Sunday Magazine and went on to become a N"ew York Times"top ten non-fiction bestseller. Because of the publicity surrounding the publication of his book, Conard was the tenth most searched author on Google in 2012.

Since its publication, Mr. Conard has made over 100 television appearances in which he has debated leading economists including Paul Krugman, Joe Stiglitz, Alan Kruger, Austan Goolsbee, and Jared Bernstein; journalists including Jon Stewart, Fareed Zakaria, Chris Hayes, and Andrew Ross Sorkin; and politicians such as Barney Frank, Howard Dean, and Eliot Spitzer.

Prior to Bain Capital, Conard worked for Wasserstein Perella & Co., an investment bank that specialized in mergers and acquisitions, and Bain & Company, a management-consulting firm, where he led the firm's industrial practice.

Conard has a master of business administration degree from Harvard Business School and a bachelor of science degree in engineering from the University of Michigan.

For up-to-date information on Ed, visit the homepage: www.EdwardConard.com

Become a fan of Ed on Facebookwww.facebook.com/EdwardConard

Follow Ed on Twitterwww.twitter.com/EdwardConard

Connect with Ed on LinkedInhttp: //www.linkedin.com/in/EdwardConard/ "
Praise For Unintended Consequences…
 "The most cogent and persuasive analysis of the financial crisis to date."—Andrei Shleifer, Harvard "A full-throated defense of economic dynamism…refreshing at a time when so many take the failure of capitalism for granted."—The Wall Street Journal "Deep and well-argued analyses on almost every issue."—The New York Times "Should be read by anyone who takes for granted the superiority of progressive taxation and has not thought carefully about the trade-offs involved."—The New Republic "The economics class you ought to have had."—The Washington Times "Reveals the author's intelligence and skill at elucidating economics."—Bloomberg Businessweek "Deserves the attention of policymakers in Washington."—Publishers Weekly "An amazing number of good ideas and interesting points…very impressive."—Steven Levitt, Univ. of Chicago, coauthor of Freakonomics