Mugged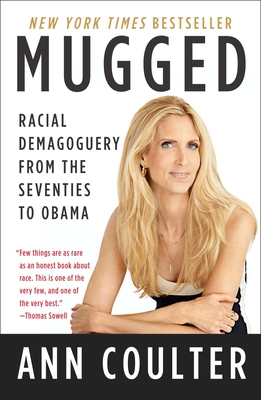 Mugged
Racial Demagoguery from the Seventies to Obama
Sentinel, Paperback, 9781591846567, 326pp.
Publication Date: August 27, 2013
* Individual store prices may vary.
Buy Now
or
Shop Local
Enter your zip code below to purchase from an indie close to you.
Description
"Few things are as rare as an honest book about race. This is one of the very few, and one of the very best."
--Thomas Sowell
For decades, the Left has been putting on a play with themselves as heroes in an ongoing civil rights movement--from which they were mostly absent at the time.
Ann Coulter fearlessly explains the real history of race relations in this country, including how white liberals twist that history to spring the guilty, accuse the innocent, and engender racial hatreds, all in order to win politically.
She shines the light of truth on cases ranging from Tawana Brawley to the LA riots and the Duke lacrosse scandal. And she shows how the Obama presidency has inspired the greatest racial guilt mongering of all time.
About the Author
Ann Coulter is the author of the New York Times bestsellers Demonic, Guilty, If Democrats Had Any Brains, They'd Be Republicans, How to Talk to a Liberal (If You Must), and other books.
Praise For Mugged…
"Mugged is not just a book—it's a public service."
—The American Spectator
 
"A refreshing and informative antidote to the divisive narratives about race perpetuated by politicians and the mainstream media."
—The Washington Times