Fairy Houses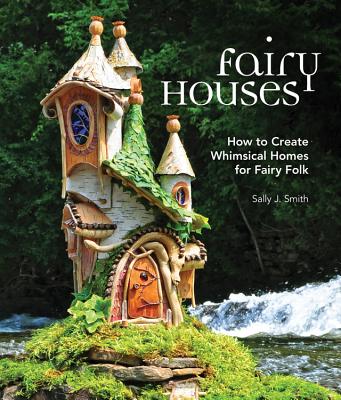 Fairy Houses
How to Create Whimsical Homes for Fairy Folk
Cool Springs Press, Hardcover, 9781591866725, 192pp.
Publication Date: January 1, 2017
* Individual store prices may vary.
Buy at Local Store
Enter your zip code below to purchase from an indie close to you.
or
Buy Here
Description
Create the ultimate fairy houses, made with natural materials - just the way real fairies build their homes
Have you ever seen a real fairy house? Not the ceramic ones you purchase, but a real fairy house made from natural elements? Well, now you can build your own miniature magical abode - the perfect addition to your garden. Revealed in Fairy Houses for the first time are the step-by-step instructions for constructing exquisite fairy houses, explained by master fairy house architect Sally Smith.
From her home on the edge of the Adirondacks, Smith has been creating one-of-a-kind fairy residencies for years. She uses natural artifacts such as butterfly wings for stained-glass windows, twigs for window frames, and birch bark for walls. Smith reveals her building secrets in Fairy Houses. Readers begin their fairy house project by flipping through an inspiration gallery, deciding what kind of house they wish to create and considering where in nature they'll put it. From there, readers learn about building materials (found and natural), on-site fairy house construction, how to light a fairy house, and how to incorporate stonework into the design. All of Smith's secret tips and techniques are then showcased in a series of step-by-step photos, making fairy house creation easy. The ones featured in Fairy Houses were designed especially for this book and are meant for longer-lasting installations.
With this book, fairy houses move beyond "cute" and into beautiful nature-woven works of art. When you're through, you'll find yourself in an enchanted land where a Lord of the Rings-esque mood is magically evoked.
About the Author
Sally J. Smith is an environmental artist and photographer living in Westport, New York, on the edge of the Adirondacks. This locale lends itself to Sally's inspiration as she creates magical, mysterious, and marvelous "faerie" houses made from real leaves, moss and stone (and many other natural materials) as well as the stunning sculptures the artist calls "Eartherials" which echo the beauty of a special place or moment in time. Each Eartherial sculpture, often created on site regardless of season or weather, is a celebration of the intimate dialog between the artist and the environment that informs her work. Sally then creates a visual record of the piece at its completion and whenever possible, after the sculpture is photographed, it is left where it was made for the Nature Spirits to enjoy. Sally Smith's work is regularly featured in the calendar world, as well as within other media. Smith's media coverage includes a profile article in The New York Times, "Leave Your Wings at the Door," which ran October 2014. Sally is also the subject of a PBS video, Sally Smith: The Fairy Queen, which aired in 2014 on "Roadside Adventures."