Defeat Chronic Pain Now!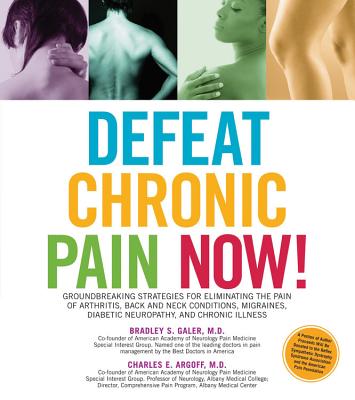 Defeat Chronic Pain Now!
Groundbreaking Strategies for Eliminating the Pain of Arthritis, Back and Neck Conditions, Migraines, Diabetic Neuropa
Fair Winds Press (MA), Paperback, 9781592334070, 271pp.
Publication Date: December 1, 2010
* Individual store prices may vary.
Buy at Local Store
Enter your zip code below to purchase from an indie close to you.
or
Not Currently Available for Direct Purchase
Description
If you are one of the millions of people suffering from chronic pain, it can often seem as if your discomfort is running and ruining your life. Maybe you ve even been told that it's all in your head and you just have to endure the debilitating effects of migraines, arthritis, back and neck pain, and chronic illness. You can feel good again Defeat Chronic Pain Now is your survival guide to preventing, reversing, and managing chronic pain.
Referencing breakthrough medical research, two of the leading pain specialists in the field, Bradley S. Galer, M.D., and Charles E. Argoff, M.D., present hidden and little known causes of common chronic pain conditions, how to avoid misdiagnosis, and the latest treatments under development including: Myofascial Dysfunction: The real (undiagnosed ) culprit in 90% of Back and Neck Pain DMARDS and NSAIDS: Two breakthrough drugs that promise significant relief for Arthritis Nutraceuticals: The natural wonder treatment for Peripheral Neuropathy Focal heat trigger-point (FHTP) therapy: The new drug-free approach to Migraine relief
The first practical book on integrative pain management, Defeat Chronic Pain Now gives you the latest information on surgical options, new medications, complementary therapies, and psychological interventions that can be used to rewire your body for pain relief. For each condition and procedure, you ll learn what to expect in the hospital and the doctor's office, and what self-therapy solutions you can do on your own. Detailed illustrations and easy-to-understand descriptions help you select the best treatment options to improve your unique type of pain and take back your life.
About the Author
Dr. Bradley Galer has been named one of the leading doctors in pain management by The Best Doctors in America. Dr. Galer was the chairman of the Pain Medicine Section of the American Academy of Neurology and founder of A Neuropathic Pain and Headache Treatment Center at the University Of Washington School Of Medicine in Seattle.


Praise For Defeat Chronic Pain Now!…
"Chronic pain is unique among all the medical afflictions that can plague mankind. It is often viewed as a symptom cannot yet be objectively measured, but its effects on a person can become life threatening if not well treated. In addition the patient must become part of the treatment team for ultimate success. Drs Galer and Argoff each have contributed significantly to the advancement of the field of pain management. They are both well know as clinicians and teachers. Their vast experience and insight is capsulated into this easy to read book that can serve as a reference source. With the authors insight, patients and their families will benefit a great deal from reading this book." —Edgar Ross, M.D., Director Pain Management Center, Brigham and Women's Hospital
"A book for chronic pain sufferers written by two savvy pain specialists that lays out a clear path for taking control of one's own health issues in spite of misinformation from many providers of health care. Chronic pain is a common and expensive disaster that afflicts both patients and society at large. Physicians do not learn enough about pain in their education and training; this book tells patients how to work their way around and through the health care they may be offered for chronic pain. The authors emphasize the role of the patient herself or himself in solving the problems of chronic pain. Two pain experts provide the reader with a path for negotiating the best possible care for chronic pain. Truly a multidisciplinary approach to the resolution of chronic pain problems. Best book of its type that I have come across in over 40 years of pain management." —John D. Loeser, M.D., Department of Neurological Surgery, University of Washington
"Defeat Chronic Pain Now! is a wonderful work by two of the field's eminent researcher-clinicians. People with chronic pain often wonder about the causes of their pain, and what options they have for managing this pain. This book provides accurate and clear answers to these questions. Individuals with chronic pain will find this guide to be an invaluable source of practical information about what can be done to ease their pain and suffering – and what treatments to avoid that can make their problem worse. Clinicians and health care providers will also find the state-of-the-science information about the causes and treatments for chronic pain conditions very useful, especially if they are looking for ideas about how to communicate this information in ways that patients will understand. I urge patients and clinicians alike to obtain and then make full use of this valuable text." —Mark P. Jensen, Ph.D., Professor and Vice Chair for Research, Department of Rehabilitation Medicine, University of Washington School of Medicine
"Drs Galer and Argoff bring a wealth of experience to the great benefit of people in pain or those who care about them. This clear and compelling text elucidates a new field within medicine that emphasizes quality of life through science and direct experience in the care of patients. The authors are recognized leaders who share this knowledge with anyone who is fortunate to read this book." —Scott Fishman, M.D., author of The War on Pain, President of the American Pain Foundation, and Professor and Chief of Pain Medicine, University of California, Davis School of Medicine