Talk to the Hand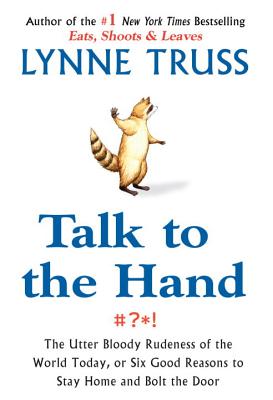 Talk to the Hand
The Utter Bloody Rudeness of the World Today, or Six Good Reasons to Stay Homean D Bolt the Door
Gotham Books, Hardcover, 9781592401710, 224pp.
Publication Date: November 8, 2005
* Individual store prices may vary.
Not Currently Available for Direct Purchase
or
Shop Local
Enter your zip code below to purchase from an indie close to you.
Description
"Talk to the hand, cause the face ain t listening," the saying goes.
When did the world stop wanting to hear? When did society become so thoughtless? It's a topic that has been simmering for years, and Lynne Truss says it's now reached the boiling point. Taking on the boorish behavior that for some has become a point of pride, Talk to the Hand is a rallying cry for courtesy. Like Eats, Shoots & Leaves, Talk to the Hand is not a stuffy guidebook, and is sure to inspire spirited conversation.
Why hasn t your nephew ever thanked you for your carefully selected gift? What makes your contractor think it's fine to snub you in the midst of a major renovation? Why do crowds spawn selfishness? What accounts for the appalling treatment you receive in stores (if you re lucky enough to get a clerk's attention at all)? Most important, what will it take to roll back a culture that applauds those who are disrespectful? In a recent U.S. survey, 79 percent of adults said that lack of courtesy was a serious problem. For anyone who's fed up with the brutality inflicted by modern manners (or lack thereof), Talk to the Hand is a colorful call to arms from the wittiest defender of the civilized world.

About the Author
LYNNE TRUSS is the author of the "New York Times" bestseller" Talk to the Hand: The Utter Bloody Rudeness of the World Today, or Six Good Reasons to Stay Home and Bolt the Door," and "The Lynne Truss Treasury: Columns and Three Comic Novels," "Eats, Shoots & Leaves," for which she won Britainas Book of the Year Award, has sold over three million copies worldwide. Truss is a regular host on BBC Radio 4, a "Times" (London) columnist, and the author of numerous radio comedy dramas.