I Thought It Was Just Me (But It Isn't)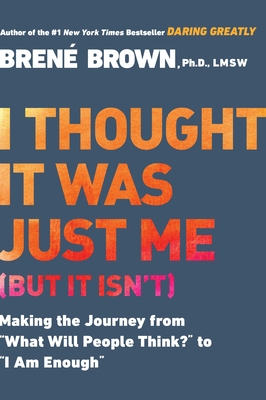 I Thought It Was Just Me (But It Isn't)
Telling the Truth about Perfectionism, Inadequacy, and Power
Gotham Books, Paperback, 9781592403356, 303pp.
Publication Date: December 27, 2007
* Individual store prices may vary.
Buy Now
or
Shop Local
Enter your zip code below to purchase from an indie close to you.
Description
Researcher and thought leader Dr. Brene Brown offers a liberating study on the importance of our imperfections both to our relationships and to our own sense of self
The quest for perfection is exhausting and unrelenting. There is a constant barrage of social expectations that teach us that being imperfect is synonymous with being inadequate. Everywhere we turn, there are messages that tell us who, what and how we re supposed to be. So, we learn to hide our struggles and protect ourselves from shame, judgment, criticism and blame by seeking safety in pretending and perfection.
Dr. Brene Brown, Ph.D., LMSW, is the leading authority on the power of vulnerability, and has inspired thousands through her top-selling book "The Gifts of Imperfection," wildly popular TEDx talk, and a PBS special. Based on seven years of her ground-breaking research and hundreds of interviews, "I Thought It Was Just Me" shines a long-overdue light on an important truth: Our imperfections are what connect us to each other and to our humanity. Our vulnerabilities are not weaknesses; they are powerful reminders to keep our hearts and minds open to the reality that we re all in this together.
Dr. Brown writes, We need our lives back. It's time to reclaim the gifts of imperfection the courage to be real, the compassion we need to love ourselves and others, and the connection that gives true purpose and meaning to life. These are the gifts that bring love, laughter, gratitude, empathy and joy into our lives.
About the Author
Brene Brown, Ph.D., L.M.S.W., is a writer and research professor at the University of Houston Graduate College of Social Work. A dynamic speaker, she frequently presents on the topic of shame resilience at conferences and public events. Visit her popular blog (www.ordinarycourage.com) to learn more.
Praise For I Thought It Was Just Me (But It Isn't)…
"Brown offers insights and strategies for understanding shame and overcoming its power over women… An interesting look at a debilitating emotion that stunts the potential of too many women."—Booklist "Brown is clearly passionate and knowledgeable about her subject and has a smooth writing style."—Library Journal "Shame is a profoundly debilitating emotion. It drives our fears of not being good enough. We can learn to feel shame about anything that is real about us --- our shape, our accent, our financial situation, our wrinkles, our size, our illness, or how we spend our day. I Thought It Was Just Me is an urgent and compelling invitation to examine our struggles with shame and to learn valuable tools to become our best, most authentic selves. Grounded in exceptional scholarship and filled with inspiring stories, this is one of those rare books that has the potential to turn lives around."—Harriet Lerner, Ph.D. author of The Dance of Anger "Brené Brown has written an insightful and informative study of a subject that leaves many women feeling trapped and powerless. Her analysis of how women are often caught in shame, is in itself liberating, and her thoughtful suggestions will help readers continue to free themselves from emotional debilitation in ways they may not even realize are possible. I Thought It Was Just Me can be a doorway to freedom and self-esteem for many, many readers."—Martha Beck, Ph.D., columnist, O, The Oprah Magazine, and author of Finding Your Own Northstar "Brené Brown's ability to explore shame and resilience with humor, vulnerability and honesty is both uplifting and liberating. If we want to change our lives, our relationships or even the world, we must start by understanding and overcoming the shame that keeps us silent. This important and hopeful book offers a bold new perspective on the power of telling our stories."                                                                                   —Professor Jody Williams, 1997 Nobel Peace Prize Recipient; Campaign Ambassador, International Campaign to Ban Landmines "This is an important and inspiring book that offers understanding and validation to the painful feelings that come with the beliefs that we are not good enough or we should be different than who we are. Brené Brown walks us on a path that releases the shackles of inadequacy and leads us to embracing our authentic selves." —Claudia Black, Ph.D. author of It Will Never Happen To Me