Our Magnificent Bastard Tongue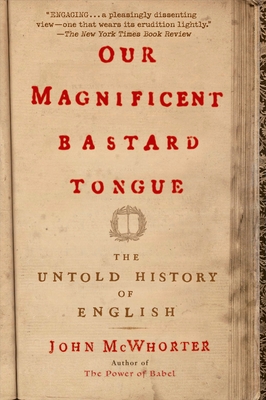 Our Magnificent Bastard Tongue
The Untold History of English
Gotham Books, Paperback, 9781592404940, 230pp.
Publication Date: October 1, 2009
* Individual store prices may vary.
Buy at Local Store
Enter your zip code below to purchase from an indie close to you.
or
Buy Here
Description
A survey of the quirks and quandaries of the English language, focusing on our strange and wonderful grammar
Why do we say I am reading a catalog instead of I read a catalog ? Why do we say do at all? Is the way we speak a reflection of our cultural values? Delving into these provocative topics and more, Our Magnificent Bastard Languagedistills hundreds of years of fascinating lore into one lively history.
Covering such turning points as the little-known Celtic and Welsh influences on English, the impact of the Viking raids and the Norman Conquest, and the Germanic invasions that started it all during the fifth century ad, John McWhorter narrates this colorful evolution with vigor. Drawing on revolutionary genetic and linguistic research as well as a cache of remarkable trivia about the origins of English words and syntax patterns, "Our Magnificent Bastard Tongue"ultimately demonstrates the arbitrary, maddening nature of English and its ironic simplicity due to its role as a streamlined lingua franca during the early formation of Britain. This is the book that language aficionados worldwide have been waiting for (and no, it's not a sin to end a sentence with a preposition).
About the Author
John McWhorter is an associate professor of English and comparative literature at Columbia University and is the author of sixteen books, including "The Language Hoax", "The Power of Babel", and "Our Magnificent Bastard Tongue". He writes for "TIME", CNN, "The Wall Street Journal", and "The Atlantic", and his articles have also appeared in "The New York Times", "The New Yorker", the" Los Angeles Times", " The Washington Post", "The New Republic", " "and The Daily Beast.