Geek Dad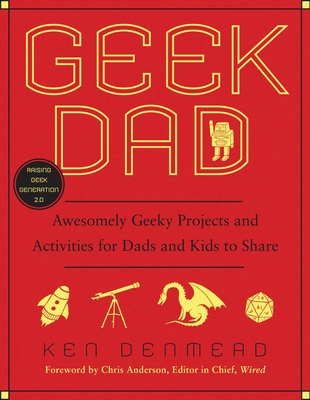 Geek Dad
Awesomely Geeky Projects and Activities for Dads and Kids to Share
Gotham Books, Paperback, 9781592405527, 222pp.
Publication Date: May 4, 2010
* Individual store prices may vary.
Buy at Local Store
Enter your zip code below to purchase from an indie close to you.
or
Buy Here
Description
The ultimate DIY project guide for techie dads raising kids in their own geeky image, in the spirit of "The Dangerous Book for Boys"
Today's generation of dads grew up more tech-savvy than ever. Rather than joining the Little League team, many grew up playing computer games, Dungeons and Dragons, and watching "Star Wars." Now with kids of their own, these digital-age dads are looking for fresh ways to share their love of science and technology, and help their kids develop a passion for learning and discovery.
Enter supergeek, and father of two, Ken Denmead. An engineer and editor of the incredibly popular GeekDad blog on wired.com, Ken has created the ultimate, idea-packed guide guaranteed to help dads and kids alike enjoy the magic of playtime together and tap into the infinite possibility of their imagination. With illustrations throughout, this book offers projects for all ages to suit any timeframe or budget. With Denmead's expert guidance, you and your child can:
Fly a night-time kite ablaze with lights or launch a video camera with balloons
Construct the "Best Slip n' Slide Ever," a guaranteed thrill ride
Build a working lamp with LEGO bricks and CDs
Create a customized comic strip or your own board game
Transform any room into a spaceship
Make geeky crafts like cyborg jack-o'-lanterns or Ethernet cuff links
Brimming with endlessly fun and futuristic tidbits on everything from gaming to gadgets, "GeekDad" helps every tech-savvy father unleash his inner kid-and bond with the next generation of brainiacs.
Watch a Video
About the Author


Chris Anderson has been a professional developer for over 10 years now, specializing in building desktop, web, and mobile business applications using Microsoft technologies for industries as wide ranging as accounting, property valuation, mining, the fresh produce industry, pet cremations, logistics, field services, sales, and construction. Now running his own business he has turned to Silverlight as the ideal new technology for developing and deploying business applications. Chris currently resides in Sydney, Australia.
Friday, Jun 18, 2010
This Sunday, forget the BBQ and try constructing a balloon-powered sky-cam or folding some electronic origami. Ken Denmead, author of Geek Dad: Awesomely Geeky Projects and Activities for Dads and Kids to Share, describes projects for science enthusiasts of all ages. More at NPR.org