Aging as a Spiritual Practice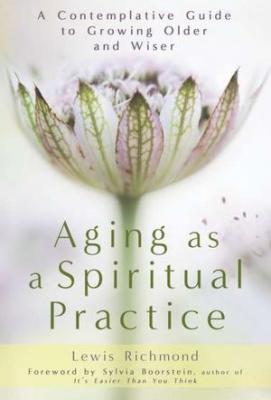 Aging as a Spiritual Practice
A Contemplative Guide to Growing Older and Wiser
Gotham Books, Hardcover, 9781592406906, 256pp.
Publication Date: January 5, 2012
* Individual store prices may vary.
Buy at Local Store
Enter your zip code below to purchase from an indie close to you.
or
Not Currently Available for Direct Purchase
Description
The bestselling author of "Work as a Spiritual Practice" presents a new vision of the aging process, awakening a spirit of fulfillment and transformation.
Everything changes. For Buddhist priest and meditation teacher Lewis Richmond, this fundamental Buddhist tenet is the basis for a new inner road map that emerges in the later years, charting an understanding that can bring new possibilities, fresh beginnings, and a wealth of appreciation and gratitude for the life journey itself.
In "Aging as a Spiritual Practice," Richmond acknowledges the fear, anger, and sorrow many people experience when they must confront the indignities of their aging bodies and the unknowns associated with mortality. This wise, compassionate book guides readers through the four key stages of aging- such as "Lightning Strikes" (the moment we wake up to our aging)-as well as the processes of adapting to change, letting go of who we were, embracing who we are, and appreciating our unique life chapters. Unlike many philosophical works on aging, however, this one incorporates illuminating facts from scientific researchers, doctors, and psychologists, as well as contemplative practices and guided meditations on aging's various challenges and rewards. The tandem of maintaining a healthy body and healthy relationships, infused with an active spiritual life, is explored in rejuvenating detail. Breath by breath, moment by moment, Richmond's teachings inspire limitless opportunities for a joy that transcends age.
About the Author
Lewis Richmond is an ordained disciple of Buddhist master Shunryu Suzuki Roshi and a lineage holder in that tradition. He is the author of the acclaimed books "Healing Lazarus" and "Work as a Spiritual Practice." In addition to leading the Vimala Sangha, a Buddhist group based in Mill Valley, California, he is a software entrepreneur and musician/composer. His website is www.lewisrichmond.com.


Praise For Aging as a Spiritual Practice…
"This book guides us in navigating aging and reaping the blessings of happiness, openheartedness and inner freedom. Lewis Richmond writes from the radiance of his own discovery-he is fresh, clear and wise. I'm recommending this to all my aging friends!"
--Tara Brach, Ph.D., author of Radical Acceptance

"As someone who recently turned 70, I ate up Lewis Richmond's words on seeing growing older a spiritual practice. The book is fun and enlightening. I'll never forget some of the stories and the sharp formulas the author uses to remember how to age with some pleasure. The Buddhist point of view is especially fresh and useful. There's some Zen in all of us, deep down."
--Thomas Moore, author of Care of the Soul and Writing in the Sand

"Embedded as our culture is in the fantasy of control and management, our deepest distress rises from being separated from natural process, and our inevitable failure to manage, even defeat aging and mortality. Lewis Richmond speaks to the summons aging brings us, and offers a practical, step by step set of attitudes and practices which open the reader to philosophical maturation, a proactive engagement with the meaning of one's changing state, and the attainment of personal dignity through our shared journey into mystery."
-James Hollis, Ph. D., Jungian analyst and author of What Matters Most

"Life can be challenging at any age and spiritual practice can be beneficial at any age. However, as Lewis Richmond makes crystal clear, these benefits may be especially important and valuable with aging."
-Roger Walsh MD, Ph.D., University of California Medical School, author of Essential Spirituality: The Seven Central Practices

Thoughtful, truthful, loving, Lew helps us bring attention to the mystery of aging with great kindness and wisdom.
--Jack Kornfield, author of A Path with Heart