The Good Food Revolution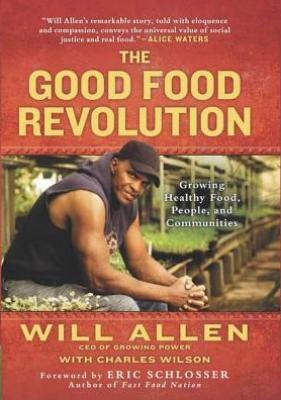 The Good Food Revolution
Growing Healthy Food, People, and Communities
Gotham Books, Hardcover, 9781592407101, 256pp.
Publication Date: May 10, 2012
* Individual store prices may vary.
Buy at Local Store
Enter your zip code below to purchase from an indie close to you.
or
Not Currently Available for Direct Purchase
Description
A pioneering urban farmer and MacArthur Genius Award winner points the way to building a new food system that can feed and heal broken communities.
The son of a sharecropper, Will Allen had no intention of ever becoming a farmer himself. But after years in professional basketball and as an executive for Kentucky Fried Chicken and Procter & Gamble, Allen cashed in his retirement fund for a two-acre plot a half mile away from Milwaukee's largest public housing project. The area was a food desert with only convenience stores and fast-food restaurants to serve the needs of local residents.
In the face of financial challenges and daunting odds, Allen built the country's preeminent urban farm a food and educational center that now produces enough vegetables and fish year-round to feed thousands of people. Employing young people from the neighboring housing project and community, Growing Power has sought to prove that local food systems can help troubled youths, dismantle racism, create jobs, bring urban and rural communities closer together, and improve public health. Today, Allen's organization helps develop community food systems across the country.
An eco-classic in the making, "The Good Food Revolution" is the story of Will's personal journey, the lives he has touched, and a grassroots movement that is changing the way our nation eats.

About the Author
Will Allen grew up on a small farm in southern California and served in the Marine Corps between the Korean and Vietnam wars. He received a PhD in Anthropology (focused on Peruvian tropical forest agriculture) and taught at U-Ill and UC-Santa Barbara before being fired and jailed for a year for civil rights and antiwar activism. He returned to farming and farm labor full-time in 1972 and has been farming organically ever since, in Oregon, California, and Vermont, where he now co-manages Cedar Circle Farm (www.cedarcirclefarm.org). He founded the Sustainable Cotton Project and is a board member of the Organic Consumers Association, Rural Vermont, and is a co-chair of Farms Not Arms.

Charles W. Wilson grew up in West Virginia and has written for several newspapers and magazines including the New York Times and the Washington Post. He has worked on the staffs of The New Yorker and the New York Times Magazine.

Eric Schlosser is a correspondent for the Atlantic. His work has also appeared in Rolling Stone, Vanity Fair, the Nation, and The New Yorker. He has received a National Magazine Award and a Sidney Hillman Foundation Award for reporting. In 1998 Schlosser wrote an investigative piece on the fast food industry for Rolling Stone. What began as a two-part article for the magazine turned into the New York Times bestseller Fast Food Nation: The Dark Side of the All-American Meal. His other books include Reefer Madness: Sex, Drugs, and Cheap Labor in the American Black Market and Chew on This: Everything You Don t Want to Know About Fast Food, a children s book he cowrote with Charles Wilson.
Praise For The Good Food Revolution…
"From the plots of his Milwaukee urban farm to low-income communities across America, Will Allen has shown us a new type of heroism.  Through The Good Food Revolution, Allen recounts his effort to reclaim his family's heritage and, in doing so, confront lingering disparities in racial and economic justice.  As the champion of a new and promising movement, Allen is skillfully leading Americans to face one of our  greatest domestic issues – our health." –  Former President Bill Clinton


"Will Allen's remarkable story, told with eloquence and compassion, conveys the universal value of social justice and real food." – Alice Waters


"Far more than a book about food, The Good Food Revolution captivates your heart and mind with the sheer passion of compelling and righteous innovation. Wow!" –  Joel Salatin, Polyface Farm


"Will Allen is a hero and an inspiration to urban farmers everywhere.  Now, with The Good Food Revolution, we learn  how Allen rediscovered the power of agriculture, and in doing so transformed a city, its community, and eventually the world – with the help of millions of red wiggler worms.  Told with grace and utter honesty, I found myself cheering for Allen and his organization, Growing Power." – Novella Carpenter, author of Farm City and The Essential Urban Farmer