The Law of Superheroes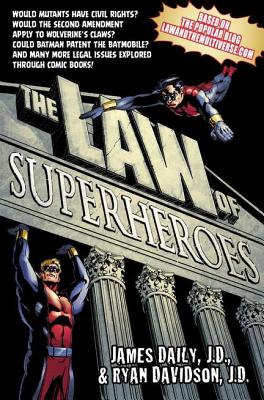 The Law of Superheroes
Gotham Books, Hardcover, 9781592407262, 304pp.
Publication Date: October 11, 2012
* Individual store prices may vary.
Buy at Local Store
Enter your zip code below to purchase from an indie close to you.
or
Not Currently Available for Direct Purchase
Description
An intriguing and entertaining look at how America's legal system would work using the world of comic books.
The dynamic duo behind the popular website LawAndTheMultiverse.com breaks down even the most advanced legal concepts for every self-proclaimed nerd.
James Daily and Ryan Davidson attorneys by day and comic enthusiasts all of the time have clearly found their vocation, exploring the hypothetical legal ramifications of comic book tropes, characters, and powers down to the most deliciously trivial detail.
"The Law of Superheroes" asks and answers crucial speculative questions about everything from constitutional law and criminal procedure to taxation, intellectual property, and torts, including: Could Superman sue if someone exposed his true identity as Clark Kent? Are members of the Legion of Doom vulnerable to prosecution under RICO? Do the heirs of a superhero who comes back from the dead get to keep their inherited property after their loved one is resurrected? Does it constitute cruel and unusual punishment to sentence an immortal like Apocalypse to life in prison without the possibility of parole?
Engaging, accessible, and teaching readers about the law through fun hypotheticals, "The Law of Superheroes" is a must-have for legal experts, comic nerds, and anyone who will ever be called upon to practice law in the comic multiverse.
About the Author
James E. Daily is Postdoctoral Research Associate for, and Administrative Director of, the Hoover Project on Commercializing Innovation. An attorney licensed in Missouri and a patent agent registered with the United States Patent and Trademark Office, his research interests include open source models of innovation, the role of open source in the marketplace, and the interactions between open source and intellectual property. He is also the creator and coauthor of the blog 'Law and the Multiverse' and the co-author of the book The Law of Superheroes.

Ryan Davidson, J.D., is an attorney licensed to practice in Indiana and cofounder of Lawandthe Multiverse.com. He is an associate at Hunt Suedhoff Kalamaros LLP, where he practices general insurance litigation. Mr. Davidson cut his teeth on speculative fiction in the first grade and has been reading graphic novels since college.