Too High to Fail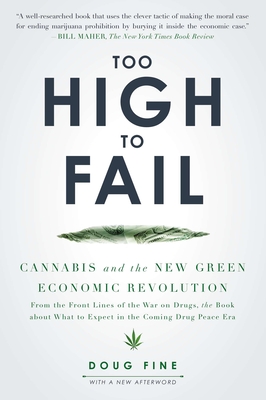 Too High to Fail
Cannabis and the New Green Economic Revolution
Gotham Books, Paperback, 9781592407613, 337pp.
Publication Date: July 2, 2013
* Individual store prices may vary.
Buy Now
or
Shop Local
Enter your zip code below to purchase from an indie close to you.
Description
The nation's economy is in trouble, but one cash crop has the potential to turn it around: cannabis. ABC News reports that underground cannabis industry produces $35.8 billion in annual revenues. But, thanks to Nixon and the War on Drugs, marijuana is still synonymous with heroin on the federal level even though it has won mainstream acceptance. Too High to Fail is an objectively (if humorously) reported account of how one plant can change the shape of our country, culturally, politically, and economically. It covers everything from a brief history of hemp to an insider's perspective on a growing season in Mendocino County, where cannabis drives 80 percent of the economy. Doug Fine follows one plant from seed to patient in the first American county to fully legalize and regulate cannabis farming. He profiles a critical issue to lawmakers, media pundits, an ordinary Americans. It is a wild ride that includes college tuitions paid with cash, cannabis-friendly sheriffs, and access to the world of the emerging legitimate, taxpaying "ganjaprenneur.
About the Author
Doug Fine is a comedic investigative journalist, bestselling author, and solar-powered goat herder. He has reported from five continents for The Washington Post, Wired, Salon, The New York Times, Outside, National Public Radio, and U.S. News & World Report. His work from Burma was read into the Congressional Record (by none other than pro-hemp Senator Mitch McConnell), and he won more than a dozen Alaska Press Club awards for his radio reporting from the Last Frontier. Fine is the author of three previous books: Too High to Fail: Cannabis and the New Green Economic Revolution; Farewell, My Subaru: An Epic Adventure in Local Living; and Not Really an Alaskan Mountain Man. A website of his print work, radio work, and short films is at www.dougfine.com. Twitter: organiccowboy.
Praise For Too High to Fail…
"Well-researched.... eye-opening and persuasive." — Bill Maher, The New York Times Book Review