Grow a Pair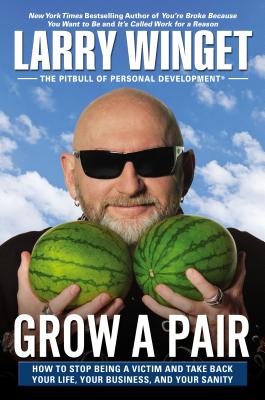 Grow a Pair
How to Stop Being a Victim and Take Back Your Life, Your Business, and Your Sanity
Gotham Books, Hardcover, 9781592408467, 158pp.
Publication Date: September 12, 2013
* Individual store prices may vary.
Buy at Local Store
Enter your zip code below to purchase from an indie close to you.
or
Buy Here
Description
The straight-talking, "New York Times" bestselling author and Pitbull of Personal Development(r) is back with a pithy and prescriptive guide to success.
A five-time bestselling author and one of the country's leading business speakers, Larry has made a reputation for being the first to challenge the positive-attraction gurus and the law-of-attraction bozos with his commonsense approach to success. Larry doesn t sugar-coat, and he isn t afraid to make people uncomfortable, because he wants us to stop making excuses, and start getting results.
In "Grow a Pair," Larry takes on entitlement culture, the self-help movement, political correctness, and more. We ve all heard the phrase grow a pair, but Larry's advice isn t about anatomy it's about attitude. To get the success we want, we need to reject victimhood in favor of being assertive and finally taking some responsibility.
With prescriptive advice on goal achieving, career, personal finance, and more, "Grow a Pair "will give the readers the kick in the pants they need.
About the Author
Larry Winget is the author of the "New York Times" bestseller "Itas Called Work for a Reason! Your Success is Your Own Damn Fault" (Gotham Books, 2007) and "Shut Up, Stop Whining, and Get a Life: A Kick-Butt Approach to a Better Life," The star of A&Eas reality series, "Big Spender," he has also appeared on CNBC and is one of the countryas highest paid speakers.
Praise For Grow a Pair…
"I like the way Larry Winget practices tough love. He doesn't tell you what you want to hear so you'll feel warm and fuzzy; he tells you what you need to hear so you'll feel uncomfortable and improve your life. Do yourself a favor and read this book." —Mark Sanborn, bestselling author of The Fred Factor and You Don't Need a Title to Be a Leader

"There's only one person in the world who could write this book.  And lucky for you - he did. I dare you to read it.  You may love it.  You might hate it.  But read it."
—Randy Gage, author of the New York Times bestseller Risky is the New Safe
 
"It has never been more important for you to stand up for yourself and your rights.  In Grow A Pair, Larry explains practical strategies for protecting yourself, your family and our country!"  
—Grant Cardone, TV's TurnAround King
 
"Larry Winget is the perfect balance of you 'get over yourself' and 'take responsibility.'  You don't have an ounce of breathing space to be less than, blame, or wait for success.  This is why no one has the ability to get you fast results in your life or business like Larry.  Few books can kick your butt so far so fast."
 —Suzanne Evans, award winning entrepreneur and life coach at Be The Change

"Winget emboldens readers to blaze a path through life with a strong sense of purpose, self-possession, and the ability to learn from criticism and failure." –Publishers Weekly

"A fast-read with powerful messages and easy concepts." –Examiner.com 
  "Read [Winget's] gripping advice, and you won't roll over and play dead ever again." –United Features Syndicate
   "An in-your-face, take-no-prisoners book for those who know they need a little bit of the plain truth…and, especially for those who don't. It's a book that I needed to read…and, I'll bet that you do, too." –McKainViewpoint.com 
  "Consider me a raving fan." –RevivingWorkEthic.com