Making Artisan Chocolates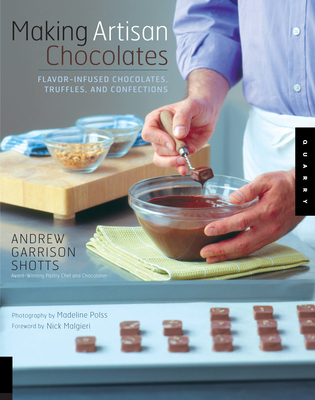 Making Artisan Chocolates
Flavor-Infused Chocolates, Truffles, and Confections
Quarry, Paperback, 9781592533107, 176pp.
Publication Date: January 2007
* Individual store prices may vary.
Shop Local
Enter your zip code below to find indies closest to you.
Description
Forget milk chocolate molded into childish candy bars. Today's chocolate candies use chocolates with high cocoa content and less sugar then previously available and are molded into highly decorated pieces of art. Once only accessible to pastry chefs and candy makers, home cooks can now purchase high-end domestic and imported chocolates in their local specialty stores. The recent availability of bittersweet chocolates coupled with our access to a global food market and unique ingredients has created an increased interest in artisanal chocolates. Drew Shotts has been at the forefront of this renaissance because of his daring use of unique flavor combinations not typically associated with chocolates, such as chili peppers, maple syrup, and spiced chai tea. Making Artisan Chocolates shows readers how to recreate Drew's unexpected flavors at home through the use of herbs, flowers, chilies, spices, vegetables, fruits, dairies and liquors.
About the Author




Nick Malgieri is the author of seven books, including A Baker's Tour, Perfect Cakes, Chocolate, and the James Beard Award-winning How to Bake. He is director of the baking program at the Institute of Culinary Education in New York City. His website, www.nickmalgieri .com, includes a schedule of his guest teacher appearances across the country.