One Zentangle a Day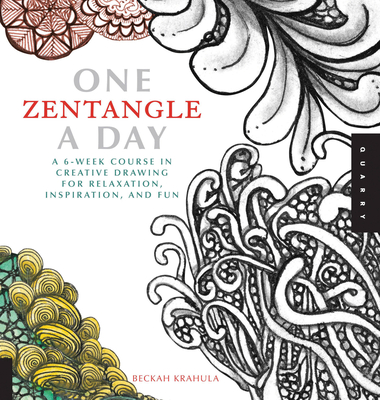 One Zentangle a Day
A 6-Week Course in Creative Drawing for Relaxation, Inspiration, and Fun
Quarry, Paperback, 9781592538119, 128pp.
Publication Date: November 2012
* Individual store prices may vary.
Shop Local
Enter your zip code below to find indies closest to you.
Description
"One Zentangle A Day" is a beautiful interactive book teaching the principles of Zentangles as well as offering fun, related drawing exercises.Zentangles are a new trend in the drawing and paper arts world. The concept was started by Rick Roberts and Maria Thomas as a way to practice focus and meditation through drawing, by using repetitive lines, marks, circles, and shapes. Each mark is called a "tangle," and you combine various tangles into patterns to create "tiles" or small square drawings.This step-by-step book is divided into 6 chapters, each with 7 daily exercises. Each exercise includes newtangles to draw in sketchbooks or on tiepolo (an Italian-made paper), teaches daily tile design, andoffers tips on related art principles, and contains an inspirational "ZIA" (Zentangle Inspired Art) project on a tile that incorporates patterns, art principals, and new techniques.
About the Author
Beckah Krahula is an artist, writer, consultant, product designer, and industry expert. She began her career with the first graphic rubber stamp company in the U.S., and has worked as a full-time mixed media artist ever since. She has worked for publishers, toy designers, and product manufacturers. In February of 2011 she became a certified Zentangle teacher. She lives in Houston, TX. She is the author of One Zentangle a Day (Quarry Books, 2012) and the forthcoming book, 500 Tangles, to be published February 1, 2015, also by Quarry Books.