Pomelo Begins to Grow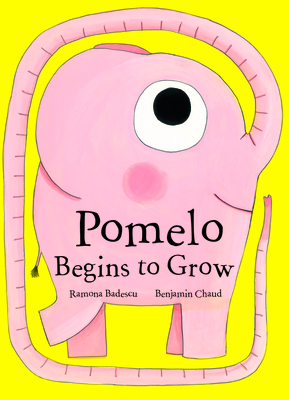 Pomelo Begins to Grow
Enchanted Lion Books, Hardcover, 9781592701117, 48pp.
Publication Date: August 16, 2011
* Individual store prices may vary.
Buy Now
or
Shop Local
Enter your zip code below to purchase from an indie close to you.
Description
Children will delight in the adorable Pomelo and in this whimsical tale about the joys and terrors of growing up.
About the Author


Benjamin Chaud est ne en 1975 dans un petit village des Hautes-Alpes. Apres avoir perdu toutes ses chances de reussir un jour dans la competition de ski, il part faire des etudes de dessin aux Arts appliques de Paris puis aux Arts decoratifs de Strasbourg avec Claude Lapointe. Depuis, il est auteur-illustrateur jeunesse, c'est-a-dire qu'il dessine des elephants de jardin et d'autres creatures sympathiques pour Milan, Bayard, Albin Michel, Actes Sud, Nathan... Il s'oriente de plus en plus vers la bande dessinee, il en fera peut-etre meme une un jour. Il vit a Marseille et travaille dans un atelier avec plein d'illustrateurs et d'illustratrices formidables et essaie d'apprendre le hongrois mais ce n'est pas de la tarte.
Praise For Pomelo Begins to Grow…
A New York Times Book Review Editors' Choice and Notable Book of the Year for 2011.

"I loved Pomelo Begins to Grow." Funny, smart and idiosyncratic, graceful and intuitive in a way that feels as much dreamed as written, Ramona Badescu's tale (translated from the French) is less a story per se than a series of musings, a kind of ad hoc therapy session for those conflicted about getting older, which, in contemporary America, where middle-­aged men dress like skate punks and 20-something women covet face-lifts, means pretty much everyone. Badescu's title character is a little garden elephant (distant relative to a lawn flamingo, I learned from an online garden-­supply catalog), who notices one morning that his favorite dandelion" seems unusually small. So too some strawberries, a pebble, a potato and an ant. Light bulb: Pomelo realizes it's he himself who's getting bigger." -- Bruce Handy, The New York Times Book Review


Starred Review Pomelo Begins to Grow by Ramona Badescu, trans. from the French by Claudia Bedrick, illus. by Benjamin Chaud. Enchanted Lion (Consortium, dist.), $16.95 (48p) ISBN 978-1-59270-111-7
"The young elephant Pomelo is growing up, and this French pair, in their English- language debut, chronicle his doubts and questions, transferring onto his eraser- pink body and round eyes the anxieties that ordinary children have but rarely ex- press. [Pomelo's] a little worried that he won't grow equally all over," Badescu says, as Chaud supplies vignettes of Pomelo with an oversize ear here and an outsize leg there. When Pomelo wonders what has to happen on the inside for him to grow on the outside," Chaud draws a cutaway view of Pomelo full of complex, mysterious machinery. And to demon- strate that growing up involves having new experiences," Chaud shows Pomelo eating a hot pepper with fire roaring out of his mouth. Badescu is honest about young childhood's losses (But seriously, does growing up mean one has to stop clowning around?") and encouraging about older children's joys ([W]hen your old fears return you are able to laugh at them"). Chaud lavishes as much energy on the verdant backgrounds as on Pomelo; they're like Henri Rousseau's tropics. The whole makes for a quirky, delectable treat. Ages 47. (Sept.)" -- Publishers Weekly

" [...] Badescu's endearingly anxious pachyderm mirrors the familiar impatience to grow up, the determination never to act like adults do, and the many other concerns medium"-sized people face. The author and illustrator demonstrate a brilliant marriage of text and illustration. Chaud's charming paintings of Pomelo in his landscape of dandelions, strawberries, and smiling potatoesset simply against oversize white pagesbreathe life and humor into Badescu's big-picture questions, while playing with scale. Youngsters will laugh at the silly depictions of Pomelo as he grows unevenly, while adults will smile at his joyful exploration of a countryside dotted with asparagus trees, broccoli bushes, and sushi flowers as he learns to love foods that aren't sweet. The imagery may remind some readers of the modern Japanese ultra-cute cartoon style, but the masterful executionand Badescu's universal subject mattermakes this a picture book that children will return to again and again." -- School Library Journal