Serenity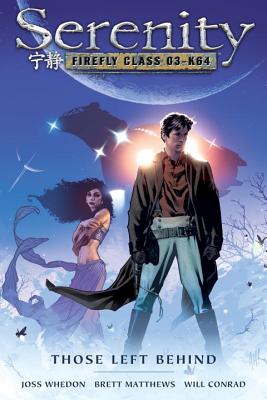 Serenity
Those Left Behind
Dark Horse Comics, Paperback, 9781593074494, 80pp.
Publication Date: January 24, 2006
* Individual store prices may vary.
Buy at Local Store
Enter your zip code below to purchase from an indie close to you.
or
Buy Here
Description
Penned by Whedon and Brett Matthews, who wrote several episodes of Firefly as well as Dark Horse''s final Angel comics series and the animated Chronicles of Riddick feature "Dark Fury," Serenity follows a ship full of mercenaries, fugitives and one law-abiding prostitute in their pursuit for fast cash and a little peace along the fringes of space. The ragtag crew of Serenity take on a scavanger mission with the hopes of earning enough dough to disappear for a while. Only too late do they realize the whole gig is orchestrated by an old enemy eager remake their aquanitance with the help of some covert-operatives known only as the Blue Gloves. Artist Will Conrad (Marvel''s Elektra and Witches) and colorist Laura Martin (Astonishing X-Men and The Ultimates) paint a rough and wild world of adventure across a strange and dangerous universe, in this not-to-be-missed tale straight from the brain of pop-culture mastermind Joss Whedon
About the Author




Will Conrad has worked as an avionics engineer before turning his hand to being a Private investigator specialising in covert surveillance. He builds and tests the technology and techniques used in each novel himself for maximum realism and authenticity. He spends his spare time writing and researching on matters of privacy and computer security. He is currently working on several TV scripts with co-writer Jack Coltrane.