Harlan Ellison's Dream Corridor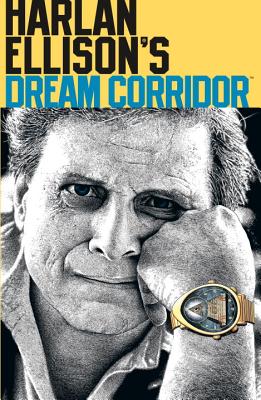 Harlan Ellison's Dream Corridor
Volume 2
Dark Horse Comics, Paperback, 9781593074944, 166pp.
Publication Date: April 2007
* Individual store prices may vary.
Shop Local
Enter your zip code below to find indies closest to you.
Description
Ever wonder what it would be like to walk into someone else's mind and have a look around? Well, what if that person happened to be a brilliant storyteller whose imagination has captivated millions of readers over the past five decades? In the award-winning anthology Harlan Ellison's Dream Corridor, we have had both the privilege and peril of rooting around in the eponymous fellow's noggin to see what makes him tick -- and what engrossing stories have been hidden away in the cracks and crevices of his gray matter.
The words of world-renowned science-fiction author Harlan Ellison are once again translated onto the page by top comics creators, including Paul Chadwick, Neal Adams, Steve Rude, Gene Colan, Steve Niles, Gerard Jones, Richard Corben and the legendary Oz illustrator Eric Shanower. Most of these stories have never before seen print.
About the Author
Harlan Ellison has been called one of the great living American short story writers by the "Washington Post". In a career spanning more than fifty years, he has won more awards than any other living fantasist. Ellison has written or edited one hundred fourteen books; more than seventeen hundred stories, essays, articles, and newspaper columns; two dozen teleplays; and a dozen motion pictures. He has won the Hugo Award eight and a half times (shared once); the Nebula Award three times; the Bram Stoker Award, presented by the Horror Writers Association, five times (including the Lifetime Achievement Award in 1996); the Edgar Allan Poe Award of the Mystery Writers of America twice; the Georges Melies Fantasy Film Award twice; and two Audie Awards (for the best in audio recordings); and he was awarded the Silver Pen for Journalism by PEN, the international writers union. He was presented with the first Living Legend Award by the International Horror Critics at the 1995 World Horror Convention. Ellison is the only author in Hollywood ever to win the Writers Guild of America award for Outstanding Teleplay (solo work) four times, most recently for Paladin of the Lost Hour, his "Twilight Zone" episode that was Danny Kaye s final role, in 1987. In 2006, Ellison was awarded the prestigious title of Grand Master by the Science Fiction and Fantasy Writers of America. "Dreams With Sharp Teeth", the documentary chronicling his life and works, was released on DVD in May 2009.