The Savage Sword of Conan, Volume 3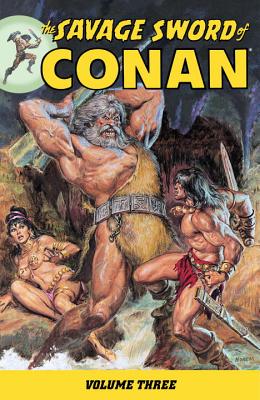 The Savage Sword of Conan, Volume 3
Dark Horse Comics, Paperback, 9781593079604, 525pp.
Publication Date: June 3, 2008
* Individual store prices may vary.
Not Currently Available for Direct Purchase
or
Shop Local
Enter your zip code below to purchase from an indie close to you.
Description
Conan's phenomenal popularity in the early comics series "Conan the Barbarian" would soon reach new heights thanks to a supplementary publication whose very name would come to represent quality in epic-fantasy storytelling--"The Savage Sword of Conan" These pulp tomes would become an inspiration to generations of Conan fans, containing some of the best adaptations and pastiches of Robert E. Howard's work ever to be seen in sequential form.
* Now for the first time ever, these stories are being collected in a series of omnibus-style books, with over five hundred pages of classic sword and sorcery-for the complete Conan collector
* Included in this volume are tales featuring the stunning art of such comics luminaries as Barry Windsor-Smith, John Buscema, Alfredo Alcala, Jim Starlin, Al Milgrom, Pablo Marcos, Walter Simonson, and many more, including a heart-stopping adaptation of the classic Howard tale "The Jewels of Gwahlur."
* This collection includes "Savage Sword of Conan the Barbarian" issues "25-31.
About the Author
Since 1965, Roy Thomas has been writing for movies, television, and especially comic books. With notable runs on Avengers, X-Men, Conan the Barbarian, Incredible Hulk, and Star Wars; he served as a Marvel editor from 1965-80 and editor-in-chief from 1972-74. He currently edits Alter Ego and writes two online Tarzan strips as well as the occasional comic book. He and his wife Dann live in South Carolina.