Roots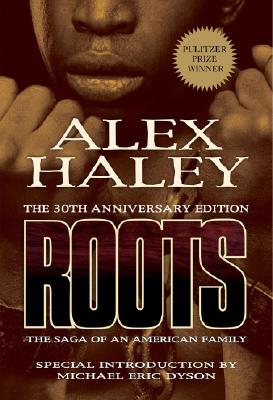 Roots
The Saga of an American Family
Vanguard Press, Paperback, 9781593154493, 899pp.
Publication Date: May 22, 2007
* Individual store prices may vary.
Buy Now
or
Shop Local
Enter your zip code below to purchase from an indie close to you.
Description
One of the most important books and television series ever to appear, "Roots," galvanized the nation, and created an extraordinary political, racial, social and cultural dialogue that hadn t been seen since the publication of"Uncle Tom's Cabin." The book sold over one million copies in the first year, and the miniseries was watched by an astonishing 130 million people. It also won both the Pulitzer Prize and the National Book Award."Roots"opened up the minds of Americans of all colors and faiths to one of the darkest and most painful parts of America's past.
Over the years, both"Roots"and Alex Haley have attracted controversy, which comes with the territory for trailblazing, iconic books, particularly on the topic of race. Some of the criticism results from whether"Roots"is fact or fiction and whether Alex Haley confused these two issues, a subject he addresses directly in the book. There is also the fact that Haley was sued for plagiarism when it was discovered that several dozen paragraphs in"Roots"were taken directly from a novel, The African, by Harold Courlander, who ultimately received a substantial financial settlement at the end of the case.
But none of the controversy affects the basic issue."Roots"fostered a remarkable dialogue about not just the past, but the then present day 1970s and how America had fared since the days portrayed in"Roots." Vanguard Press feels that it is important to publish"Roots: The 30th Anniversary Edition"to remind the generation that originally read it that there are issues that still need to be discussed and debated, and to introduce to a new and younger generation, a book that will help them understand, perhaps for the first time, the reality of what took place during the time of"Roots."

About the Author
Alex Haley (1921 1992)" "is the author of "Roots", one of the most celebrated novels of the 1970s. He spent twenty years in the Coast Guard until beginning his writing career working for a range of magazines before becoming a ghostwriter for his first major book, "The Autobiography of Malcolm X". Haley spent years tracing his own family history and decided it went back to a single African man, Kunta Kinte, who was captured in Gambia and taken to the United States as a slave. That research led to Haley s epic book "Roots", published in 1976 to wide acclaim. Haley is credited with inspiring interest in genealogy among African Americans.

MICHAEL ERIC DYSON is a New York Times op-ed contributor, a Georgetown University professor, an MSNBC political analyst, and best-selling author of seventeen books, including the American Book Award-winningCome Hell or High Water: Hurricane Katrina and the Color of Disaster.He lives in Washington, D.C.