The Art of the Commonplace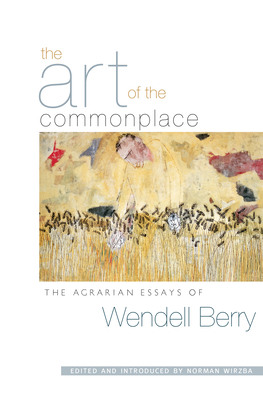 The Art of the Commonplace
The Agrarian Essays of Wendell Berry
Shoemaker & Hoard, Paperback, 9781593760076, 330pp.
Publication Date: August 5, 2003
* Individual store prices may vary.
Buy at Local Store
Enter your zip code below to purchase from an indie close to you.
or
Buy Here
Description
"Here is a human being speaking with calm and sanity out of the wilderness. We would do well to hear him."The Washington Post Book World
Art of the Commonplace gathers twenty essays by Wendell Berry that offer an agrarian alternative to our dominant urban culture. Grouped around five themesan agrarian critique of culture, agrarian fundamentals, agrarian economics, agrarian religion, and geo-biographythese essays promote a clearly defined and compelling vision important to all people dissatisfied with the stress, anxiety, disease, and destructiveness of contemporary American culture.
Why is agriculture becoming culturally irrelevant, and at what cost? What are the forces of social disintegration and how might they be reversed? How might men and women live together in ways that benefit both? And, how does the corporate takeover of social institutions and economic practices contribute to the destruction of human and natural environments?
Through his staunch support of local economies, his defense of farming communities, and his call for family integrity, Berry emerges as the champion of responsibilities and priorities that serve the health, vitality and happiness of the whole community of creation.

About the Author
A prolific nonfiction writer, novelist, and journalist, Gene Logsdon has published more than two dozen books, both practical and philosophical. Gene's nonfiction works include Holy Shit, Small-Scale Grain Raising, Living at Nature's Pace, The Contrary Farmer's Invitation to Gardening, Good Spirits, and The Contrary Farmer. His most recent novel is Pope Mary and the Church of Almighty Good Food. He writes a popular blog, The Contrary Farmer, as well as an award-winning column for the Carey Ohio Progressor Times, and is a regular contributor to Farming Magazine and Draft Horse Journal. He lives and farms in Upper Sandusky, Ohio. You can visit his blog at http: //thecontraryfarmer.wordpress.com/.

Norman Wirzba is Research Professor of Theology, Ecology, and Rural Life at Duke Divinity School. He is the author of The Paradise of God (2007) and Living the Sabbath (2006), among other titles. He lectures widely on topics related to ecology, agriculture and food systems as they are philosophically and theologically understood.