How the World Works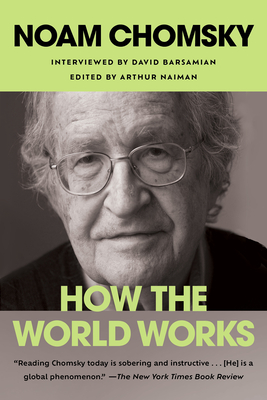 How the World Works
Soft Skull Press, Paperback, 9781593764272, 335pp.
Publication Date: September 20, 2011
* Individual store prices may vary.
Buy at Local Store
Enter your zip code below to purchase from an indie close to you.
or
Buy Here
Description
According to "The New York Times," Noam Chomsky is arguably the most important intellectual alive. But he isn t easy to read . . . or at least he wasn t until these books came along. Made up of intensively edited speeches and interviews, they offer something not found anywhere else: pure Chomsky, with every dazzling idea and penetrating insight intact, delivered in clear, accessible, reader-friendly prose.
Published as four short books in the famous "Real Story" series"What Uncle Sam Really Wants"; "The Prosperous Few and the Restless Many"; "Secrets, Lies and Democracy"; and "The Common Good"they ve collectively sold almost 600,000 copies.
And they continue to sell year after year after year because Chomsky's ideas become, if anything, "more" relevant as time goes by. For example, twenty years ago he pointed out that in 1970, about 90% of international capital was used for trade and long-term investmentmore or less productive thingsand 10% for speculation. By 1990, those figures had reversed. As we know, speculation continued to increase exponentially. We re paying the price now for not heeding him them.

About the Author
Noam Chomsky is Institute Professor at the Department of Linguistics and Philosophy, Massachusetts Institute of Technology. Professor Chomsky has written and lectured extensively on a wide range of topics, including linguistics, philosophy, and intellectual history.

Arthur Naiman has taught biology to wayward girls in a convent, written ads, and guided boatloads of trusting souls into every rock on several western rivers. His missionary work among the shiksas is legendary.

David Barsamian, founder and director of the award-winning and widely syndicated weekly show Alternative Radio, has authored several books of interviews with leading political thinkers, including Arundhati Roy, Howard Zinn, Edward Said, and Noam Chomsky. He and Chomsky co-authored and co-narrated "Imperial Ambitions" for Macmillan. He lives in Boulder, Colorado.