The Mindful Way Through Depression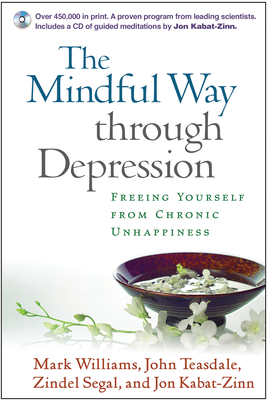 The Mindful Way Through Depression
Freeing Yourself from Chronic Unhappiness [With CD]
Guilford Publications, Paperback, 9781593851286, 273pp.
Publication Date: June 2, 2007
* Individual store prices may vary.
Buy at Local Store
Enter your zip code below to purchase from an indie close to you.
or
Buy Here
Description
The Mindful Way through Depression draws on the collective wisdom of four internationally renowned mindfulness experts, including bestselling author Jon Kabat-Zinn, to provide effective relief from the most prevalent psychological disorder. This authoritative, easy-to-use self-help program is based on methods clinically proven to reduce the recurrence of depression. Revealing the hidden psychological mechanisms that cause chronic unhappiness, the authors gently guide readers through a series of exercises designed to break the mental habits that lead to despair. Kabat-Zinn lends his calm, familiar voice to the accompanying CD of guided meditations, making this a complete package for anyone looking to regain a sense of balance and contentment.
About the Author
J. Mark G. Williams, DPhil, is Emeritus Professor of Clinical Psychology at the University of Oxford, where he was Wellcome Principal Research Fellow from 2003 to 2012. He collaborated with John Teasdale and Zindel Segal in developing mindfulness-based cognitive therapy (MBCT) to prevent relapse and recurrence in major depression; together, they coauthored Mindfulness-Based Cognitive Therapy for Depression (now in its second edition), The Mindful Way Workbook, and (with Jon Kabat-Zinn), The Mindful Way through Depression. Dr. Williams is a Fellow of the Academy of Medical Sciences and the British Academy. Now retired, he continues to train mindfulness teachers around the world. Melanie Fennell, PhD, is a Founding Fellow of the Oxford Cognitive Therapy Centre, where she is now an Associate Trainer. She is also an Associate Trainer at the Oxford Mindfulness Centre. As a research clinician in the University of Oxford Department of Psychiatry, she contributed to the development of evidence-based treatments for depression and anxiety disorders, including MBCT. She developed and led the Oxford Diploma in Cognitive Therapy, the Oxford Diploma/MSc in Advanced Cognitive Therapy Studies, and (with Mark Williams) the Oxford Master of Studies program in Mindfulness-Based Cognitive Therapy. Dr. Fennell is an Honorary Fellow of the British Association of Behavioural and Cognitive Psychotherapies (BABCP) and was voted "Most Influential Female UK Cognitive Therapist" by the BABCP's membership in 2002. Thorsten Barnhofer, PhD, is a Heisenberg Fellow at Charite, the joint medical faculty of the Free University of Berlin and Humboldt University, where he investigates the neural mechanisms of mindfulness training in the treatment and prevention of depression. Previously, he worked in Professor Williams's group at the Oxford Department of Psychiatry, where he was involved in research on MBCT for suicidal and chronic depression. A cognitive-behavioral therapist and yoga teacher, Dr. Barnhofer regularly teaches MBCT training workshops and retreats for mental health professionals. Rebecca Crane, PhD, MA, DipCot, is Director of the Centre for Mindfulness Research and Practice at Bangor University in Wales. She previously worked in the mental health field as an occupational therapist and an integrative counsellor. Dr. Crane teaches and trains internationally in both MBCT and mindfulness-based stress reduction (MBSR), and is a certified MBSR teacher with the Center for Mindfulness in Medicine, Health Care, and Society at the University of Massachusetts Medical School. Sarah Silverton, DipCot, MEd, teaches at the Centre for Mindfulness Research and Practice at Bangor University, Wales. She has extensive experience as an occupational therapist, counselor, and mindfulness teacher and trainer. She is the author of The Mindfulness Breakthrough.

Jon Kabat-Zinn, PhD, is internationally known for his work as a scientist, writer, and meditation teacher engaged in bringing mindfulness into the mainstream of medicine and society. He is professor of medicine emeritus at the University of Massachusetts Medical School, and author of numerous books, including Full Catastrophe Living, Arriving at Your Own Door, and Coming to Our Senses.

John Teasdale, Ph.D. has held senior research appointments in the department of psychiatry at the University of Oxford and in the Cognition and Brain Sciences Unit at Cambridge University.