In Defense of Food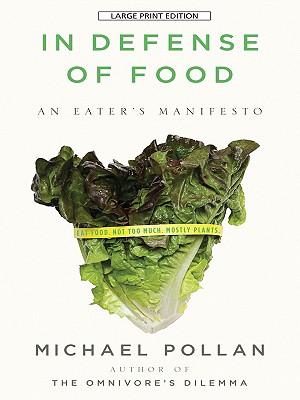 In Defense of Food
An Eater's Manifesto
Large Print Press, Paperback, Large Print, 9781594133329, 329pp.
Publication Date: May 1, 2009
* Individual store prices may vary.
Buy Now
or
Shop Local
Enter your zip code below to purchase from an indie close to you.
About the Author
Sandor Ellix Katz is a self-taught fermentation experimentalist. He wrote Wild Fermentation: The Flavor, Nutrition, and Craft of Live-Culture Foods--which Newsweek called "the fermenting bible"--in order to share the fermentation wisdom he had learned, and demystify home fermentation. Since the book's publication in 2003, Katz has taught hundreds of fermentation workshops across North America and beyond, and authored The Art of Fermentation (2011) and the instructional DVD Fermentation Workshop with Sandor Ellix Katz (2010). A native of New York City, he now gardens, saves seeds, tends goats and chickens, and produces biodiesel from used fry oil in an off-the-grid community in the hills of Tennessee.