The Faith Instinct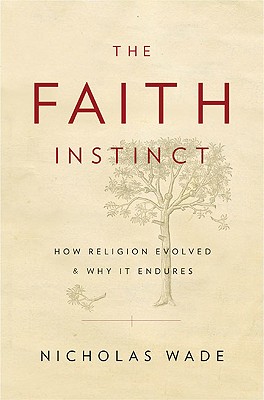 The Faith Instinct
How Religion Evolved and Why It Endures
Penguin Press HC, The, Hardcover, 9781594202285, 320pp.
Publication Date: November 12, 2009
* Individual store prices may vary.
Shop Local
Enter your zip code below to find indies closest to you.
Description
Noted science writer Nicholas Wade offers for the first time a convincing case based on a broad range of scientific evidence for the evolutionary basis of religion.
Praise For The Faith Instinct…
"Highly intriguing...In this probing work of science reporting, New York Times correspondent Wade sheds light on what is sure to bea controversial new field of research in evolutionary psychology, genetics and anthropology...A turning point, and advancement, in the science-religion debate."
-Kirkus Review

"[In The Faith Instinct], longtime New York Times science reporter Wade deftly explores the evolutionary basis of religion. He draws on archaeology, social science, and natural science as he vigorously shows that the instinct for religious behavior is an evolved part of human nature...Wade's study compels us to reconsider the role of evolution in shaping even our most sacred human conditions."
-Publishers Weekly

"The Faith Instinct is a big winner! Its highly intelligent and much- needed narrative about why religions have proved essential to human success kept me engrossed from its beginning to its final pages."
-James D. Watson, author of The Double Helix

"There is so much...in this compact account, including cultural-evolutionary explanations of the three great monotheisms-enough, in fact, to make it a cornerstone of popular religion-and-science studies."
-Booklist

"It is a rare book that will be read as eagerly by religion's defenders as by its detractors. Building on his rightly admired Before the Dawn, Nicholas Wade has written just such a book."
-Jack Miles, author of God: A Biography

"As he did earlier for human prehistory in Before the Dawn, Nicholas Wade has delivered the most balanced and fact-based account available of a subject fundamental to human self-understanding. His scholarship is thorough, and his writing crystalline and exciting."
-Edward O. Wilson, author of Consilience and The Future of Life

"Instead of attacking or defending religion, as so many have done lately, the biggest challenge is to explain how we became the only religious primate. In a spell-binding and wide-ranging account, Nicholas Wade offers a natural history of religion and convincingly explains why the phenomenon is here to stay."
-Frans de Waal, author of The Age of Empathy

"Of all the recent books on religion, I believe The Faith Instinct is simultaneously the most complete, the most correct, and the most accessible to the general public. Wade tells an extraordinary story in which morality, community, and religion are three strands of the same rope. Free of jargon and partisanship, The Faith Instinct is full of fascinating and up-to-the- minute scientific discoveries."
-Jonathan Haidt, author of The Happiness Hypothesis

"With his new book, New York Times science reporter Nicholas Wade positions himself as a serious challenger to Steven Pinker for the title of Best Living Popularizer of the Human Sciences."
-The National Review