Born Round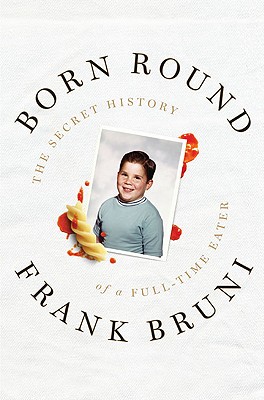 Born Round
The Secret History of a Full-time Eater
Penguin Press HC, The, Hardcover, 9781594202315, 368pp.
Publication Date: August 20, 2009
* Individual store prices may vary.
Not Currently Available for Direct Purchase
or
Shop Local
Enter your zip code below to purchase from an indie close to you.
Description
"The New York Times" restaurant critic's heartbreaking and hilarious account of how he learned to love food just enough
Frank Bruni was born round. Round as in stout, chubby, and always hungry. His relationship with eating was difficult and his struggle with it began early. When named the restaurant critic for "The New York Times" in 2004, he knew he would be performing one of the most watched tasks in the epicurean universe. And with food his friend and enemy both, his jitters focused primarily on whether he'd finally made some sense of that relationship. A captivating story of his unpredictable journalistic odyssey as well as his lifelong love-hate affair with food, "Born Round" will speak to everyone who's ever had to rein in an appetite to avoid letting out a waistband.
Praise For Born Round…
"It was a great surprise when, in 2004, The New York Times transferred Frank Bruni from his job as the paper's Rome bureau chief to the paper's restaurant critic. The journalist had made a name for himself covering the 2000 campaign and, later, foreign affairs. But what did he know about food? As it turned out, more than most. As Bruni would later write, "My life-defining relationship, after all, wasn't with a parent, a sibling, a teacher, a mate. It was with my stomach." . . . .[Born Round ] reads entirely differently from anything we've seen lately. The book does not contain paeans to the glories of locavorism. It's not a tale of bawdy kitchen exploits, or of finding your true self over a bowl of pasta in Rome . . . His memoir tells a story of food addiction, eating disorders, and a lifelong struggle with his voracious appetite . . . Born Round makes for a breezy read. Even at its darkest, it goes down easy . . . After reading Bruni for years, it feels odd to suddenly know his secrets, which put his reviews in a new context. His pieces were always well written, but hinted little of the big, funny personality that shines in the book."
--Village Voice

"It reads like a novel, resonates like true life, and resounds with a wise life perspective."
-Barbara Jacobs, Booklist, starred review

"Amongst all the 'foodie' books which have been published lately-praising food, relishing food, exploring food, celebrating food-Frank Bruni's memoir stands utterly alone. This book is an intricate, honest and sometimes painful examination of one man's extremely complex lifelong relationship with eating, and with over-eating. What happens when a professional dieter-one who has struggled since childhood with binging, fasting, shame and other extreme forms of caloric anxiety-is invited, ironically enough, to become a professional food critic? There is much pathos in this story, and humor, and ultimately wisdom. I have always admired Frank Bruni in the past; I only admire him more now, for this brave piece of culinary truth-telling."
- Elizabeth Gilbert, author of Eat, Pray, Love

"Frits, false mustaches, and sleep broiling? In warmth, breadth, and beautiful writing, Born Round is-to borrow a phrase-Flintsonian."
- David Sedaris, author of Me Talk Pretty One Day and When You Are Engulfed in Flames

"A book about rambunctious hunger and appetite-for life as much as food-that is underscored with a profound yearning. Born Round is, quite simply, beautifully written and makes for greedy reading. It sounds like the most terrible clichT to say 'I devoured it,' but I did!"
- Nigella Lawson, author of How to Be a Domestic Goddess and Nigella Bites

"Frank Bruni has written a food memoir for our time, plumbing the depths of our personal and collective eating disorders. By turns shocking and hilarious, Born Round is as addictive as Chinese sesame noodles and as satisfying as Grandma Bruni's lasagne."- Michael Pollan, author The Omnivore's Dilemma and In Defense of Food

"Born Round is delizioso! If this book were a restaurant, people would be lined up around the block to get in. This is a moving, joyous and poignant memoir filled with unforgettable characters and a story to savor. Frank Bruni, the full-time eater, has a full-time fan."
- Adriana Trigiani, bestselling author of Lucia, Lucia andVery Valentine

"Born Round is a lovely and very funny memoir of one man's lifelong struggles with food and weight. I laughed out loud a number of times, and groaned with recognition of both my own madness and healing. I love Mr. Bruni's stories about his family, his secret life, his friends, his path through the swamps and morass of overeating, and most of all, his quietly brilliant writing."
- Anne Lamott, author of Grace (Eventually) and Traveling Mercies

"Anyone who has ever eaten a huge and delicious meal, gone on a diet, or--best of all-eaten a huge and delicious meal while on a diet will relish this charming memoir. Frank Bruni's wit and candor as he recounts his lifelong love-hate relationship with food will make you laugh, wince, and covet the chance to be his dinner companion."
- Curtis Sittenfeld, author of Prep and American Wife

Publisher's Weekly Pick of the Week, 7/6/2009:

Man of Mangia

Outgoing New York Times restaurant critic Bruni admits he was even a baby bulimic in his extraordinary memoir about a lifelong battle with weight problems. To his Southern Italian paternal grandmother, food equaled love. Cooking and parenting from Old World traditions, she passed these maternal and culinary principles on to her WASP daughter-in-law, whose own weight struggles her son eventually inherited. Through adolescence, puberty and into college, Bruni oscillated from gluttonous binges to adult bulimia, including laxative abuse. Vocationally, journalism called, first through the college paper, then a progression of internships and staff positions in Detroit and New York, including his stints as a Bush campaign reporter in 2000 and as the Times Rome correspondent. In tandem, Bruni's powerlessness over his appetite developed from cafeteria meals to Chinese delivery binges to sleep eating. While Bruni includes such entertaining bits as the campaign trail seen through Weight Watcher lens and ample meals from his years as the Times restaurant critic, in the end, his is a powerful, honest book about desire, shame, identity and self-image. (Sept.)
Thursday, Aug 20, 2009
Former New York Times restaurant critic Frank Bruni has had a lifelong self-proclaimed obsession with food. Bruni talks about his memoir, Born Round, his struggle with overeating, and the eating disorders he has overcome. More at NPR.org