The Beauty of Humanity Movement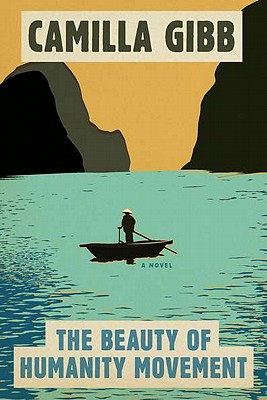 The Beauty of Humanity Movement
Penguin Press HC, The, Hardcover, 9781594202803, 320pp.
Publication Date: March 17, 2011
* Individual store prices may vary.
Buy at Local Store
Enter your zip code below to purchase from an indie close to you.
or
Not Currently Available for Direct Purchase
Description
This deeply observed novel of contemporary Vietnam interweaves stories of a venerable soup seller, a young Vietnamese American curator, and an enterprising tour guide in ways that will mark all of their lives forever.
Maggie, an art curator who is Vietnamese by birth but who has lived most of her life in the United States, has returned to her country of origin in search of clues to her dissident father's disappearance. She remembers him only in fragments, as an injured artist from whom she and her mother were separated during the war. In her journey, Maggie finds herself at a makeshift pho stall, where the rich aroma of beef noodle soup lures people off Hanoi's busy streets and into a quiet morning ritual.
Old Man Hung, the enlightened proprietor of the beloved pho stall, has survived decades of poverty and political upheaval. Hung once had a shop that served as a meeting place for dissident artists. As Maggie discovers, this old man may hold the key to both her past and her future.
Among Hung's most faithful customers is Tu', a dynamic young tour guide who works for a company called New Dawn. Tu' leads tourists through the city, including American vets on war tours, but he has begun to wonder what it is they are seeing of Vietnam-and what they miss entirely. In Maggie, he finds a young Americanized woman in search of something quite different, leading him beyond his realm of expertise. In sensual, interwoven narratives, Maggie, Hung, and Tu' come together in a highly charged season that will mark all of them forever.
"The Beauty of Humanity Movement" is a skillfully wrought novel about the reverberation of conflict through generations, the enduring legacy of art, and the redemption and renewal of love. The story of these characters is tinged with longing for worlds and loved ones lost but also filled with the hope that faith can heal the pain of their shared country's turbulent past. This is the distinct and complex story of contemporary Vietnam, a country undergoing momentous change, and a story of how family is defined-not always by bloodlines, but by heart.
About the Author
Camilla Gibb was born in London, England, and grew up in Toronto. She has a Ph.D. in social anthropology from Oxford University for which she conducted fieldwork in Ethiopia. Her two previous novels, Mouthing the Words, winner of the City of Toronto Book Award in 2000, and The Petty Details of So-and-So's Life, have been published in eighteen countries and translated into fourteen languages, receiving rave reviews all around the world. She is one of twenty-one writers on the Orange Futures List a list of young writers to watch, compiled by the jury of the prestigious Orange Prize. Camilla lives in Toronto, where she serves as vice president of PEN Canada and is currently writerin-residence at the University of Toronto."
Praise For The Beauty of Humanity Movement…
Reader reviews from BookBrowse:

"I enjoyed reading this book. The Vietnamese characters were skillfully brought to life by the author. A good job was done showing contemporary Vietnamese life while reviewing much of the history of this country. In America we don't know the story of the North Vietnamese people. This book brings out the problems and delights of their culture. By seeing North Vietnam through the eyes of a woman who is Vietnamese by birth but spent much of her life in America we can relate to many of her impressions. This book would be good for discussions in a book club."
-Rated 5 of 5 by Doris K. (Angora, MN)

"I found this a compelling, very well-written book that touches on many issues and ideas: Vietnam and Vietnamese history, culture and society; family; art and politics; how cultures and traditions shift in the face of history; "outsider" perspectives on America and Americans; food and cooking; and love and relationships. I've been to Hanoi, where the book takes place, once, for only a single week, but found her descriptions so accurate that I assumed her cultural and historical perceptions must be as well. Highly recommended."
-Rated 5 of 5 by Susan B. (Rutledge, MO)

"Camilla Gibb has created a love story, a history, and a biography which takes place in Viet Nam. This book contains so much of an education, yet it is delivered in a beautiful and interesting manor. I enjoyed this book and have been inspired to find out more of the history of Viet Nam both yesterday and today."
-Rated 5 of 5 by Trezeline B. (Columbia, MD)

"Having been a huge fan of Camilla Gibb's previous book, Sweetness In the Belly, I expected to immediately be swept up with her new one. I was slightly disappointed that it wasn't to happen right away in this book, but very much rewarded as she slowly wove her magic, unveiling an exquisite story of contemporary Vietnam, particularly her tying in of its art and literature. The main character, Old Man Hung, is a private, yet charming man who creates his own magic with his secret recipe for pho, an aromatic beef noodle soup that makes him sought after in the nearby towns. Among some of his frequent customers are a woman who is Vietnamese from the US in search of her artist father, and a young man named Tu, who is an enterprising tour guide that she enlists to show her around. These characters, as well as others in the story, are very likable, and the author does a wonderful job in her descriptions of the foods, smells, the poverty, as well as the beauty of the land and the art. A lovely and gripping novel."
-Rated 5 of 5 by Linda G. (Walnut Creek, CA)

"This was a very moving book. The story touches on the effects of war, political upheaval, repression and poverty, which might be difficult for some to read. It also touches on love and survival. It was both haunting and hopeful. I would highly recommend the book."
-Rated 5of 5 by Mary B. (St Paul, MN)

"I loved this book! Being a baby-boomer, I have long wondered why there have not been more books written about the Vietnam War and its after effects. The author writes with great sensitivity about some very difficult issues. I was impressed by her ability to weave together the stories of the various characters. Even the minor characters are memorable and add to the richness of the book. I would definitely recommend this book to readers who are interested in the people, rather than the politics or the battles, of the Vietnam War era of American history."
-Rated 5 of 5 by Kathleen W. (Appleton, WI)

"I found this an interesting read. The story is a nice blend of modern and old Vietnamese culture. There are few books in English which deal with this period of North Vietnam history. The characters are interesting and the story includes information about cooking and visual art two of my favorite subjects. I also appreciated that the author did not seem to have any political slants and just told a story."
-Rated 5 of 5 by Carolyn G. (South Pasadena, CA)

"As one who lived through the turmoil perpetuated by the Vietnam War, I've reacted to this lovely book on many levels. The first was in the reliving of the horror of body bags televised nightly combined with the civil unrest perpetuated by this very unpopular war. Now some 30-40 years later comes this well crafted story of this small group of Vietnamese people giving insight as to what this war was really about. The author is able to make you see the sights and smell the smells of Vietnam as well as make you care about the main characters, particularly Hung. The struggles of the main characters humanize the war in a way that is new to me. The book certainly lends itself for discussion in many directions.
Though the Beauty of Humanity Movement refers to a group of artists and poets struggling to express their art, to me the real Beauty of Humanity Movement is embodied in this small group of people who in spite of all their hardships never waiver in their devotion to one another.
I highly recommend this book."
-Rated 5 of 5 by Iris F. (W. Bloomfield, Michigan)

"At once both a brilliantly conceived novel about the past and present in Vietnam, and an inquiry into family, love and responsibility, Camilla Gibbs writes with familiarity with the country: in particular the trauma, deprivation and political turmoil the north experienced during the years of the American War. The main characters are well developed, especially Hung, the itinerant pho vendor. One thing that struck me was Hung's recognition of the difference in 3 generations, with the middle one-the ones who became silenced or compromised by the revolution-not the same as the dissidents of the first and the young influenced by the post war cultural changes since opening to the west. The arts endure and somehow a people survive, nourished by what's most meaningful to them. Love and redemption for Hung and Lan, Maggie, Tu and Binh transcend the boundaries of traditional family and bring together the stories of a nation in conflict. Few Americans have heard stories about how North Vietnam endured during our war there. Having spent time in communist or post-communist countries I'm familiar with the corrosive effects of the system on the population and Gibb has woven those into the story skillfully. This is a good book club read as well as for individuals interested in the country or the period."
-Rated 5 of 5 by Claire M. (Sarasota, Florida)

"I loved the prospective of this book. It gives back ground into a world I think is unfamiliar to most people. I found myself not wanting to put it down and/or picking up just to read a couple more lines here and there. It offers mystery, history and culture. I feel this book would appeal to a great many readers."
-Rated 5 of 5 by Maggie P. (Redmond, WA)

"I enjoyed this book. Ms Gibb is a good writer. (Actually, I have been browsing Amazon.com to select another of her books.) Her characters were very well developed. I was pleasantly surprised by how knowledgeable she was about the conflicts the Vietnamese people engaged against the French and the Americans to regain their country. I lived during those years and was aware of the later conflict since I was a member of the US Army Reserve. However, this book refreshed my memory that people were basically alike regardless of their language, color of their skin, and so forth. As I was reading her book, the statement, "War is Hell", kept surfacing and that common people (like you and I) came to mind for we truly suffer during war time."
I have been reading recently about other Asian countries who have revolted successfully against repressive governments which have become repressive themselves. Having absolute power is very irresistible and addictive.
I would recommend this book to book clubs since it raises many interesting discussion topics."
-Rated 5 of 5 by Jerry P. (Santa Rosa, CA)

"This is a wonderful book with a setting that is unique for historical fiction. Set shortly after the opening of Vietnam after the war, on the surface, it is the story of a Viet Nieu (refugee) woman returning to Vietnam to discover the fate of her father, left behind when she and her mother escaped at the end of the war. In reality, it is the story of the Vietnamese coming to grips with the new world of united Vietnam, returning refugees and the modern world. In my mind, the star of the book is Old Man Hung, a pho-seller who ties the other characters together. Maggie's search for her father never quite clicked for me, I never felt that I understood her feelings for her father, but the rest of the characters made up for that. Even the incidental characters are fully realized, and the setting was perfectly described--I felt I was there in the heat and humidity, the old city decaying and the new city rising, and over all of it were the characters who, lacking their original families, make new ones with what is left. This book made me want to run out and find some pho! The writing is beautiful, the characters stayed with me long after putting the book down and the atmosphere was wonderful. I was especially interested in the views of the war from the Vietnamese viewpoints, which I hadn't encountered before. I would have liked a glossary though, as there were many Vietnamese words included in the text and it would have been easier to look them up in a glossary than try to find them again so I could puzzle them out."
-Rated 5 of 5 by Patricia S. (Chicago, IL)