Guitar Zero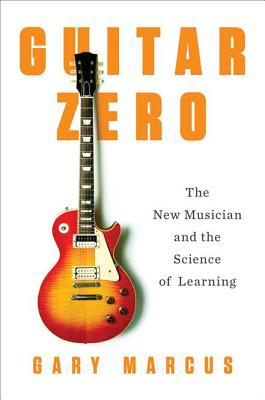 Guitar Zero
The New Musician and the Science of Learning
Penguin Press, Hardcover, 9781594203176, 274pp.
Publication Date: January 19, 2012
* Individual store prices may vary.
Buy at Local Store
Enter your zip code below to purchase from an indie close to you.
or
Not Currently Available for Direct Purchase
Description
On the eve of his 40th birthday, Gary Marcus, a renowned scientist with no discernible musical talent, learns to play the guitar and investigates how anyone of any age can become musical. Do you have to be born musical to become musical? Do you have to start at the age of six?
Using the tools of his day job as a cognitive psychologist, Gary Marcus becomes his own guinea pig as he takes up the guitar. In a powerful and incisive look at how both children and adults become musical, Guitar Zero traces Marcus's journey, what he learned, and how anyone else can learn, too. A groundbreaking peek into the origins of music in the human brain, this musical journey is also an empowering tale of the mind's enduring plasticity.
Marcus investigates the most effective ways to train body and brain to learn to play an instrument, in a quest that takes him from Suzuki classes to guitar gods. From deliberate and efficient practicing techniques to finding the right music teacher, Marcus translates his own experience as well as reflections from world-renowned musicians into practical advice for anyone hoping to become musical, or to learn a new skill.
Guitar Zero debunks the popular theory of an innate musical instinct while simultaneously challenging the idea that talent is only a myth. While standing the science of music on its head, Marcus brings new insight into humankind's most basic question: what counts as a life well lived? Does one have to become the next Jimi Hendrix to make a passionate pursuit worthwhile, or can the journey itself bring the brain lasting satisfaction?
For all those who have ever set out to play an instrument or wish that they could Guitar Zero is an inspiring and fascinating look at the pursuit of music, the mechanics of the mind, and the surprising rewards that come from following one's dreams.

About the Author
Gary Marcus is a professor of psychology at New York University and director of the NYU Infant Language Learning Center. Marcus received his Ph.D. at age twenty-three from MIT, where he was mentored by Steven Pinker. His writing has appeared in the New York Times, Newsday, the Los Angeles Times, and other major publications. He lives in New York.
Friday, Feb 10, 2012
NYU psychology professor Gary Marcus took up guitar at the relatively ancient age of 38, by starting with the video game Guitar Hero. Marcus shares his experiences and insights on the science of learning, which he's gathered in a new book Guitar Zero: The New Musician and the Science of Learning. More at NPR.org